Happy Thanksgiving from Shot@Life
The Shot@Life team reflects on what they're thankful for with the Thanksgiving holidays quickly approaching.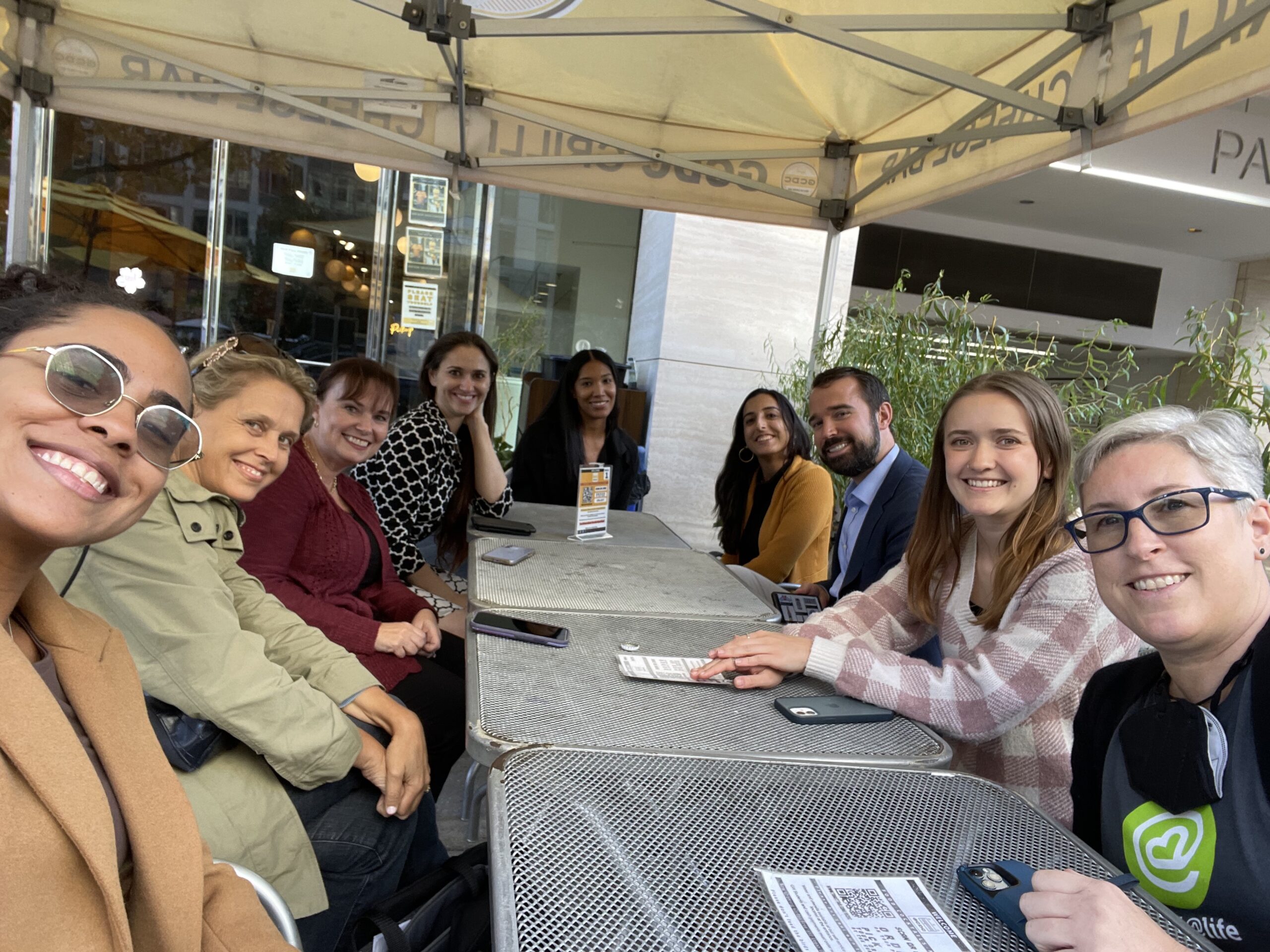 Thanksgiving is just around the corner in the United States
, and we are embracing the spirit of gratitude and traditions. One favorite tradition is when family and friends gather around the table and take turns sharing what they are grateful for. We invite you to pull up a seat at our virtual table (aka the Shot@Life blog) to learn what our team members are grateful for this year, both in their personal lives and professional lives
devoted to global vaccination efforts. 
I am grateful for all the health volunteers around the world, including the people I have met in Uganda, Zambia, Democratic Republic of Congo, and other countries. I appreciate how hard they work, often unpaid, to ensure members of their communities are safe and protected with vaccines, have the latest accurate health information, and have access to health services.  
I am personally grateful for young people who are standing up and demanding climate justice, gender equity, better work-life balance, and that the brands and businesses they support share their values. 
I am thankful for scientists who work tirelessly to create safe, lifesaving vaccines that protect us against deadly infectious diseases and for healthcare workers who work tirelessly to combat increasing vaccine dis- and misinformation. 
Outside of the vaccine sphere, I am thankful for the restorative power of nature and for this little, canine turkey, Inka. 
Brian Massa

, Global

Health Advocacy Director

 
Professionally, I am grateful for talented and smart congressional staffers, advocates who support our work, dedicated health workers around the world who turn vaccines into vaccination, science, and facts. 
Personally, I am thankful for baking with my strong and clever girls, the James Webb telescope, and single malt, single cask Scotch in front of the fire. 
Rebecca Maxie

, Grassroots Advocacy Director

 
In the global health space, I'm thankful for our vaccine champions – no matter how busy their lives are, they still find the time and energy to advocate for children everywhere to have better access to lifesaving vaccines. 
I'm thankful for my family, friends, Rusty (my 100 lb. Doberman puppy), road trips, great playlists, and delicious tacos.
Within the immunization sphere, I am grateful for dedicated health workers around the world, who pull out all the stops to reach every child and turn vaccines into vaccinations. 
I am also grateful for my supportive family, fall weather in DC, and the Shot@Life team for their warm welcome back these past two months. 
I am grateful for the scientists and health workers who are continuing to help us recover from the pandemic and researching ways to prevent future ones. 
Personally, I am thankful for Trader Joe's, fall time in DC, chocolate, being able to see live music again this year, my health, friends, family, and my kind coworkers. 
Roberta Plantak

, Corporate Partnerships Officer

 
I am grateful for the extraordinary efforts of our UN Foundation partners; both UN partners working on the ground to increase access to vaccines in the hardest to reach areas and partners who support and invest in global childhood immunization programs. It is incredible to work with such dedicated team members who continue creating opportunities for health globally.  
I am also grateful for my supportive and loving family. 
Sydney Bonds
, Senior Campaign Associate
I'm thankful for our partnership Get a Shot. Give a Shot.® that turns a regular vaccine into a chance to protect a child from deadly diseases. When you get a shot at Walgreens, you help make our world a healthier place by donating a lifesaving vaccine to a child in need. Together, we've helped provide over 80 million vaccines to children around the world with a goal to reach 100 million lifesaving vaccines by 2024. 
I'm also grateful for my loved ones. I'm fortunate to be surrounded by a great group of friends, family, and community who help make hard times more manageable. 
I am grateful not just for our advocates, but for the hope that they bring with them. In a world continuously clouded by negative news and setbacks they continue to fight the fight for an ongoing issue that affects so many globally. 
Outside of the vaccine sphere, I am grateful for movement. I get up out of my bed with no assistance, actively put on clothing, bend down to put on my shoes, walk a good distance to the metro, stand on the metro and then walk to work. I repeat that twice a day, multiple days a week and add exercising and so much more mundane movement to that list. That's something not everyone can say they do.  
Liz Thrush
, Polio Advocacy Officer
I'm grateful for the chance to contribute towards polio eradication efforts and be a part of global health history. 
I'm grateful for my friends, family, and yoga. 
I am grateful for vaccine advocates dedicating their time and energy to raise support for global childhood vaccines, so that any kid is protected, regardless of where they live. 
This year, I am grateful for another year filled with celebrations, friends who turned into family, family of course, and coffee! 
If you are spending the holiday with friends and family members who also care about global health and getting vaccines for all, we'd be honored if you shared our petition as an easy first way to make a difference. 
We wish you a safe, happy, and healthy Thanksgiving with your families!