Currently, 1.5 million children under the age of five die each year from vaccine-preventable disease. In an effort to reduce childhood mortality rates, global organizations, such as GAVI, the Vaccine Alliance, have committed to improving vaccine programs around the world.
The good news is, it's working.
In Ghana, the DTP3 vaccination rate increased from 84% in 2006 to 99% in 2017.  In the same time frame, childhood mortality rates declined from 84.9 per 1000 live births to 58.8 per 1000.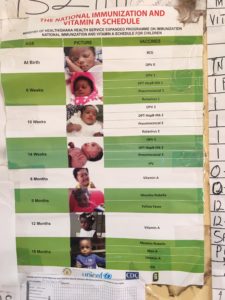 I just returned from a visit to Ghana.  I was impressed with the organization of the community health care system and the dedication of the health care workers. I was excited to see GAVI funded vaccination refrigerators in many of the rural health care centers.
Midwifery students educated patients on the benefit of vaccines and reminded parents of vaccination schedules. Educational posters in the clinics reinforced this teaching.
Health care workers shared success stories, supported by graphs and figures of on target vaccination rates. Clifford Veng, Director of Ghana Health Services, Wa West District reports that health care outcomes are improving in Ghana.
Unfortunately, resources are limited and there is still much to be done. Historically, members of rural communities are disproportionately limited in their access to health care, including vaccine programs.
Children under the age of five, the age group most in need of immunization services, make up almost 20% of the total population of Wa, Ghana.
To boost vaccination rates, nurses developed community outreach programs to deliver vaccines where they are needed in the most remote villages. But with limited transportation and fuel, it is challenging for nurses to reach every child.
Moreover, several of the rural community health centers that we visited in Wa West do not have refrigerators for storing vaccines.
In other facilities, faulty solar panels of existing vaccine refrigerators were in need of repair. Safe vaccine refrigeration was noted as the number one priority in more than one facility.
Across the district, 47% of the community health centers were in need of serviceable vaccine storage refrigerators. Without proper refrigeration, the facility is unable to maintain a vaccine program that is convenient and accessible to the nearby community members.
As Shot@Life champions, we work to make sure this does not happen, and children are able to easily access safe and effective vaccines.
We do this by advocating for funding of global immunization programs. Our work supports rural communities, such as Wa West, and others around the world in their efforts to increase access to lifesaving vaccines.
Learn more about Shot@Life Champions.