The WHO Recommends a Second Malaria Vaccine
The WHO recommends a second malaria vaccine, R21/Matrix-M, a major advancement in child health and malaria control.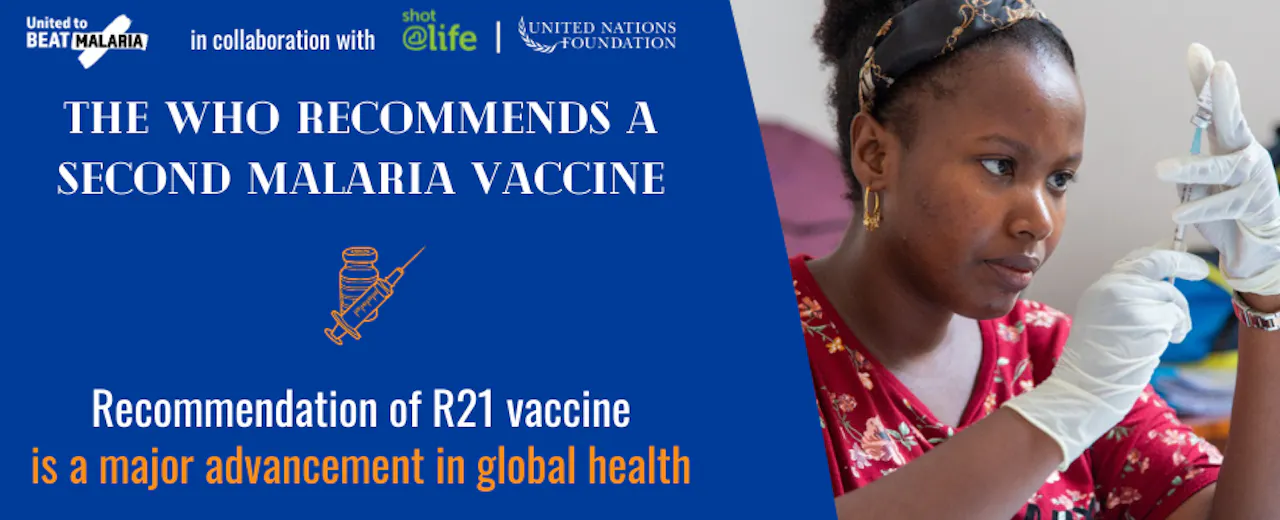 "As a malaria researcher, I used to dream of the day we would have a safe and effective vaccine against malaria. Now we have two," said Dr Tedros Adhanom Ghebreyesus, WHO Director-General. "Demand for the RTS,S vaccine far exceeds supply, so this second vaccine is a vital additional tool to protect more children faster, and to bring us closer to our vision of a malaria-free future."
Both RTS,S and R21 have shown to be safe and effective in preventing malaria in young children. While neither vaccine is considered the 'silver bullet' solution to end malaria, both show tremendous promise as complementary prevention tools that can save tens of thousands of lives annually if administered at full scale.
The stakes are enormous: Nearly half a million children die every year from this mosquito-borne disease. Progress in reducing mortality has stalled in recent years, due in part to emerging drug and insecticide resistance that have rendered existing tools less effective.
Another safe and effective malaria vaccine
R21 and RTS,S both have 3-dose regiments with booster options. They have not been compared in a head-to-head trial. When comparing efficacy rates, it's important to acknowledge that RTS,S has undergone trials over more than a decade that involved nearly 1 million children. R21 will soon share complete results from its Phase III trial that included 4,800 children across Burkina Faso, Kenya, Mali and Tanzania.
Closing the sizeable supply-demand gap
The addition of R21 is expected to dramatically increase coverage across Africa, where demand for malaria vaccines will reach 80-100 million doses by 2030. R21's manufacturer, The Serum Institute of India, has already established production capacity for 100 million doses per year, which will be doubled over the next two years, according to The Jenner Institute. By comparison, the supply of RTS,S is expected to reach only 15 million doses annually in the coming years.
WHO is currently reviewing R21 for Prequalification, the final regulatory step that will enable Gavi, the Vaccine Alliance (Gavi) and UNICEF to commence mass purchase and procurement. WHO SAGE said today that this process should be finalized in the "relatively near future."
At least 28 African countries plan to introduce a WHO-recommended malaria vaccine as part of their national immunization programs. Gavi will support malaria vaccine rollout in 18 of those countries, with four additional applications under review. The RTS,S vaccine will be rolled out in some African countries in early 2024, and the R21 malaria vaccine is expected to become available to countries mid-2024.
"Delivered to scale and rolled out widely, the two vaccines can help bolster malaria prevention and control efforts and save hundreds of thousands of young lives in Africa from this deadly disease," said Dr Matshidiso Moeti, WHO Regional Director for Africa.
While the scale-up of R21 and RTS,S will have a significant impact on malaria control and childhood mortality, malaria vaccines are far from a silver-bullet solution. A comprehensive approach towards malaria prevention is still needed to sustain progress against malaria, an approach that includes an array of proven, cost-effective prevention methods, including insecticide-treated bed nets, seasonal malaria chemoprevention, indoor residual spraying, and spatial repellents – along with vaccines.