Champion Spotlight: Bridget Murphy and Irene Stamper
Long time friends Irene Stamper and Bridget Murphy have advocated on behalf of Shot@Life for nearly 5 years. The dynamic advocacy duo discuss their relationship with each other and how they became involved with the campaign.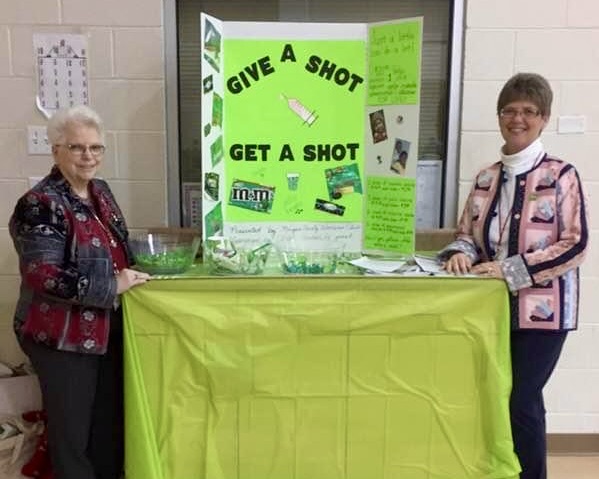 "There are friends. There is family. And then there are friends who become family."
Irene Stamper and Bridget Murphy are friends who became family, and these two Shot@Life champions from Kentucky are a dynamic advocacy duo. They shared a bit about their relationship with each other, the relationships they've established with their officials and staff, and their membership in the General Federation of Women's Clubs (GFWC). 
Have a friend that would want to become a Shot@Life advocate? They can get more information and sign up for a training here. 
How long have you two been friends?
Irene: I've been friends with the Murphy family for many years. Bridget married into the Murphy family, so she became family too. 
Bridget: My husband and I have been married almost 34 years, so that means Bridget and I have been friends for a long time. 
What brought you to Shot@Life?
Bridget: I attended a presentation at one of my first GFWC international conventions. When I heard that in some places, mothers do not name their babies until they reach the age of five (because they are concerned about losing them to vaccine-preventable diseases before then), my jaw dropped to the floor. I'll never forget that. I thought, "What can I do to change that?" 
As a parent, there are so many things you cannot protect your child from, so if there's anything you can do to protect them, you do it. Vaccination is cheap and easy. Why would you not do it? So I got involved. 
Bridget started as a champion in 2017 and Irene followed her a year later. "After I retired, she talked me into joining," Irene explains.   
GFWC is Shot@Life's oldest partner. What does that long-standing relationship mean to you as people who are very involved in both organizations?
Irene: I think it's very important for GFWC to be involved with Shot@Life. It's an important partnership. GFWC is 80,000 members strong, which makes a huge difference when talking with lawmakers. It's meaningful that we get to talk about why we are passionate about vaccines and get other GFWC members to join and see them become as passionate as we are.    
Bridget: I love that there are measurable goals and that you can see the benefit of the work that we do and the progress we have made together. I appreciate that all the money GFWC raises goes to Gavi, the Vaccine Alliance. Irene and I had a fundraising table for Shot@Life at our GFWC regional conference. We could say that giving $25 can immunize a child for life. You can say, "I did that. We did that." 
What are your favorite moments as Shot@Life advocates?
Bridget: Meeting with Senator Mitch McConnell in the Senate Majority Leader's Office when he held that position was very impactful. You don't have to like the person to respect the office. Sen. McConnell is a polio survivor, and when he came out to meet the Kentucky delegation (which included Denis Ogbe, a polio survivor himself), the first thing Sen. McConnell asked was "Who is the polio survivor?" He then proceeded to have a quiet conversation with Dennis about their experiences. 
Irene:  That meeting was a wonderful experience. It was amazing to witness Dennis and the senator speaking and to see this intimate conversation between two people who survived polio. When I first started as a Shot@Life champion, it was a bit scary meeting with our officials and their staffers. I was used to teaching elementary students, but that's very different. I enjoy our meetings now. I'm not saying that I'm always comfortable with it, but I do enjoy getting to express my feelings to powerful elected officials.  
Have there been any surprises along the way?
Bridget: Yes! We had struggled to get meetings with Sen. Rand Paul, and when we did, the staffers were not always as receptive as we would have liked. In fact, they could be rude. Also, they often don't answer the phone. On Shot@Life's advocacy call-in day, I left a message, as I had done before. I went on about my day, and as I was fixing dinner, the phone rang. It was one of Sen. Paul's staffers returning my call. I was shocked. I scrambled to find our talking points, and we talked for approximately 20 minutes.  
Irene:  Then the staffer called me. We both got calls back. You just never know what's going to happen when you take action. 
Bridget:  When I first completed my champion training, I remember that it addressed three areas: awareness, fundraising, and advocacy. I felt comfortable with the first two, but not comfortable with advocacy at all. Now, advocacy is my favorite part. If you told me then that I would feel that way, I would not have believed you. I am surprised by how much I have enjoyed it.  I am also surprised by how you truly can and do develop relationships with staffers and officials. When I did a month-long stint working at the local Sheriff's office, I answered the phone, and it was my representative's chief of staff. He knew my voice and remembered I was with Shot@Life before I could tell him. 
What is your favorite part during Shot@Life's annual advocacy activities?
Irene: My favorite part would be having Congressional meetings. When the staffer or official is enthused about what we're telling them, it makes me feel like we're doing something positive to help these children and get vaccines out worldwide. Doing something makes me feel better. 
Bridget: I agree. You don't really know how the government works until you go see it in person. Then you see that you really have an impact. You can make a difference. 
Favorite part of working with each other?
Irene: We really enjoy meetings in the local offices, and then we make a day of it and go have a girls day together. Anytime we're together, we have a great time.  
Bridget: It's not as intimidating when you have your friends by your side going to a meeting. We love to travel together and love getting to go to DC for the Champion Summit when we can be in person. It's just more fun with a friend.  
What advice would you give to advocates and those thinking of becoming Shot@Life champions?
Bridget:  It's not as hard as you think! Be willing to put yourself out there and know what you do matters. You're saving babies. That's what it's all about. 
Irene: Saving children's lives is the most important thing we can do. 
Want to join Bridget and Irene to improve global health and make the world a more equitable place? Learn more about how to get involved here!