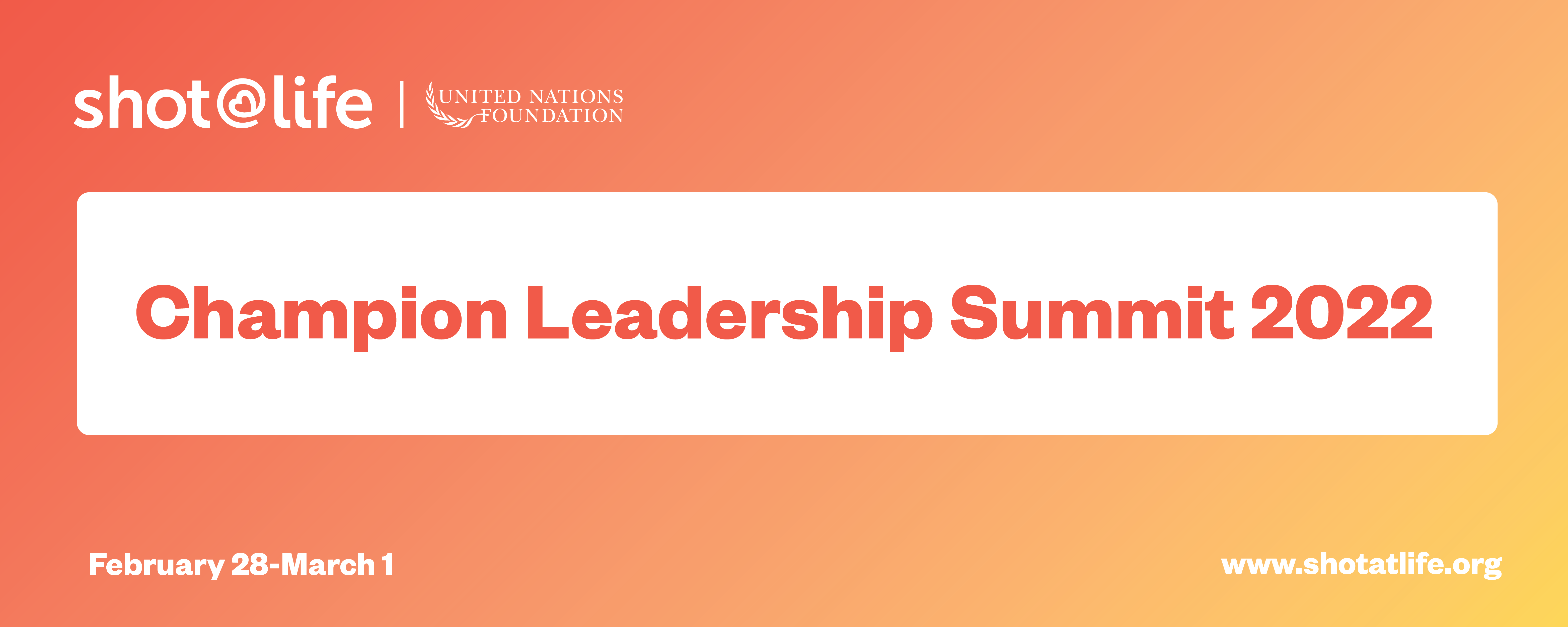 This year's Shot@Life's Champion Leadership Summit took place on February 28 and March 1, 2022. Thanks to the support of our staff, partners, and amazing advocates, the two-day virtual event was a huge success!  
The Summit brought together nearly 100 of our most involved vaccine champions from across the country for sessions that enhanced their knowledge on global childhood immunization progress, expanded their advocacy skills, and prepared them for virtual meetings on Capitol Hill.  

Photo: Shot@Life Champions meeting virtually with Senator Marie Cantwell's office (D-WA).
Advocacy Impact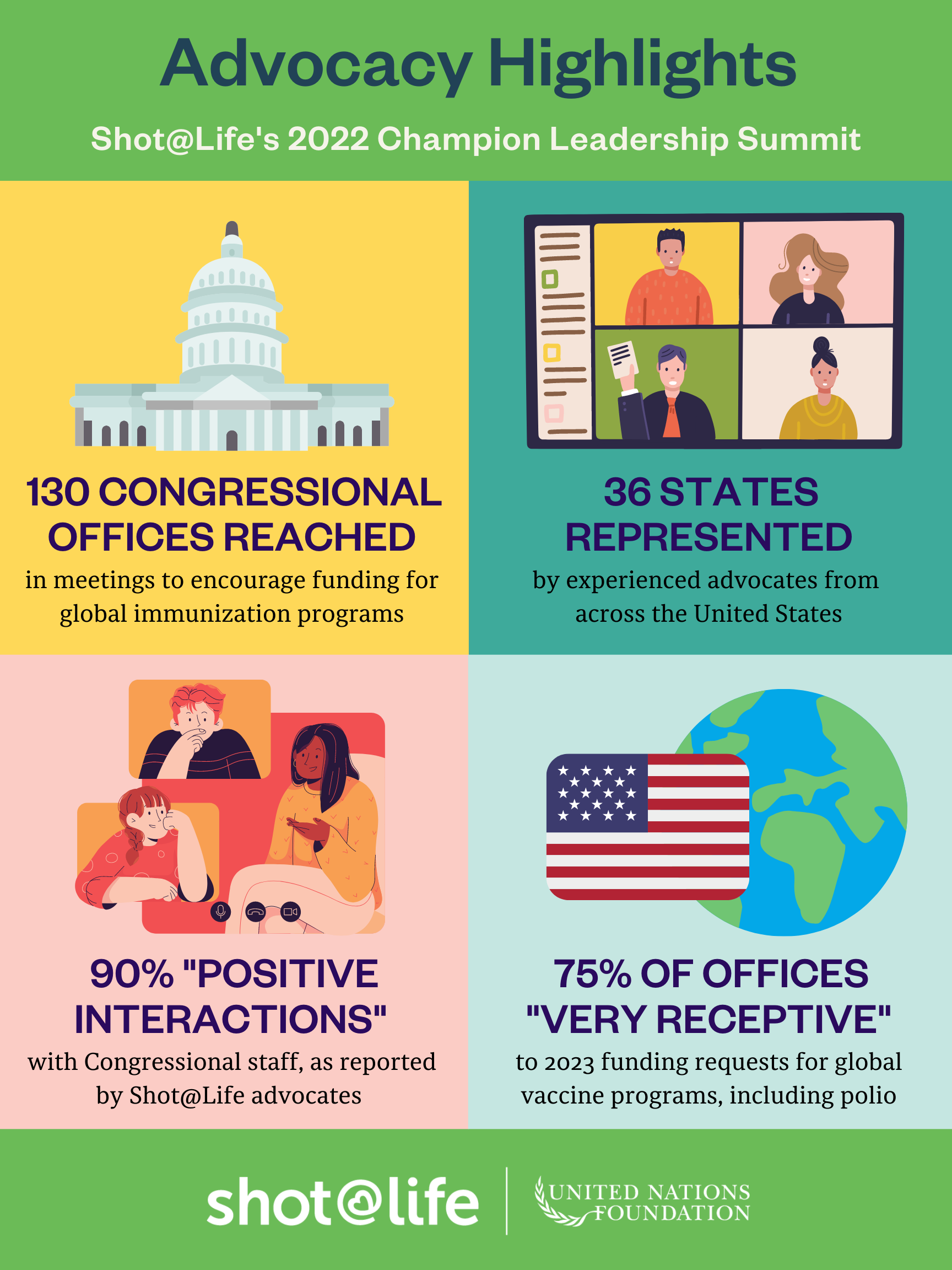 On Day 2, Shot@Life advocates from 36 states virtually met with their lawmakers on Capitol Hill to promote #VaccinesforAll. They reached 130 Congressional offices with inspiring messages of support for global child immunization programs. 
Shot@Life advocates requested that their representatives fully fund global childhood immunization activities in the 2023 U.S. budget. They also asked that offices show their support for polio eradication by signing a "Dear Colleague" letter, which reinforces the importance of funding for polio vaccination campaigns. 
Our collective voices were met with enthusiasm on the Hill. Over 90% of our Summit participants reported positive experiences after meeting their Congress member's office, with 75% of representatives indicating they were "very receptive" to the 2023 budget requests. Moreover, more than half of the Congressional staffers asked for follow-up—a promising sign of their willingness to support global vaccination. 
Feedback from Offices
"Sen. Markey's Policy Advisor said he would be happy to be a resource for Shot@Life and stay in contact with as new legislative opportunities came in. He said they are excited to potentially see increased funding come in FY23!"  –Katrina Finch, visiting Senator Ed Markey's office (D-MA) 
"[The Congressional staffer] took a global health course in college and learned about the importance of vaccines in the eradication of smallpox. She mentioned that the representative is 'always looking for proper investments… investing now to not have costs down the road.' She seemed very interested in the Dear Colleague letter and took notes on contacts for that letter."  – Jonathan Kidwell, visiting Representative Andrew Garbarino's office (R-NY) 
"[The staffer] remembers meeting with Shot@Life Champions from years ago. He showed the measles stuffed toy! It was fun and very positive."  –Margaret McDonnell, visting Senator Marie Cantwell's office (D-WA) 
"We were happy to hear that Senator Risch's top priority is global health security. Furthermore, they complimented us on how organized our information was." –Emile Dawisha, visiting Senator Jim Risch's office (R-PA) 
Speakers and Sessions
Highlights from our day of speakers include: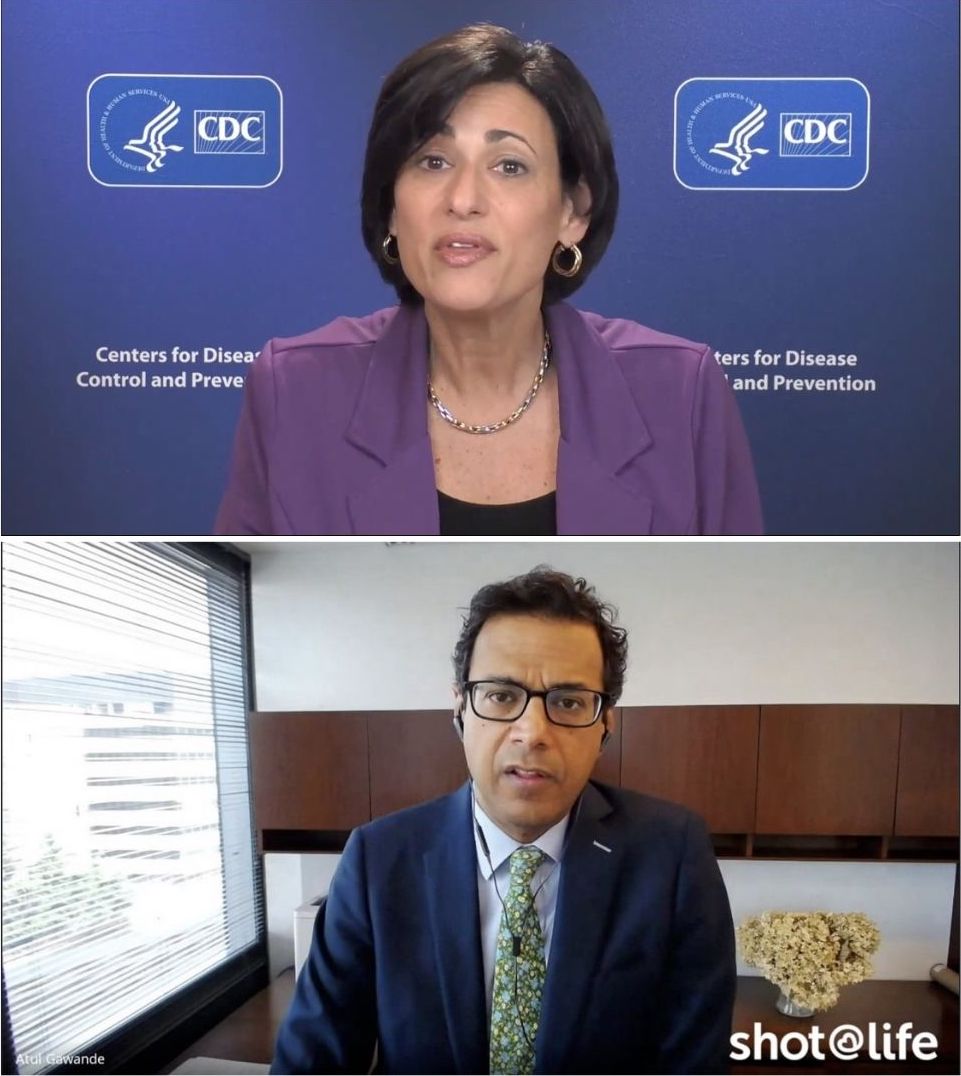 Keynote with Dr. Rochelle P. Walensky, Director of the U.S. Centers for Disease Control and Prevention
(Watch Highlight Video)
It was an honor to have Dr. Walensky join us this Summit. She spoke about CDC initiatives that worked to improve global childhood vaccination rates, especially for children who had missed out on their routine immunizations during the COVID-19 pandemic. She reminded us of the importance of global vaccine equity and emphasized:
"We know that no community, district, or province within any nation will truly be safe from health threats until all are….We will only achieve our goals by working together." 
USAID Childhood Immunization Priorities with Dr. Atul Gawande, Assistant Administrator U.S. Agency for International Development
We were thrilled to hear from Dr. Gawande, who spoke to us about the USAID's three main priorities in 2022: using the U.S. initiative GLOBALVAX to support countries' COVID-19 vaccine distribution, harnessing resources to build up primary health systems, and ensuring equitable vaccination for those who are under-immunized. As he stated, "we must take [scientific] breakthroughs and turn them into follow through." Advocacy plays a critical role in this process, and he thanked our advocates for their tireless support for global childhood vaccination.  
The Road to Polio Eradication with Dr. Alaa Murabit, Director of Program Advocacy and Communications at the Bill and Melinda Gates Foundation, and Ambassador John E. Lange, Senior Fellow, Global Health Diplomacy, United Nations Foundation
Dr. Alaa Murabit and Ambassador Lange joined us for a fantastic discussion about progress with polio eradication. They highlighted some of the major wins in the past year, such as historic lows in polio transmission in 2021 (only 5 cases) and Pakistan's completion of its first year free of polio. Dr. Murabit and Amb. Lange urged the global health community to remain vigilant in their fight to end polio:
"How could you look someone in the eye in 20 years and say, 'we got close to eradicating polio, but we gave up'? We cannot give up."   
Policy to Programs: Fireside Chat with Kate Dodson, Vice President for Global Health Strategy at UN Foundation; Dr. John Vertefeuille, Director of the Global Immunization Division of the U.S. Centers for Disease Control and Prevention; and Dr. Christopher Gregory, Senior Advisor and Team Lead of Accelerated Immunization Initiatives at UNICEF
UN Foundation's Vice President of Global Health Strategy, Kate Dodson, moderated two excellent conversations with Dr. John Vertefeuille at CDC and Dr. Christopher Gregory at UNICEF. Dr. Vertefeuille spoke about CDC's global health priorities for 2022, including essential immunization recovery, polio eradication, and COVID-19 vaccine scale up. Dr. Gregory spoke UNICEF's vaccine equity work, particularly focusing on their efforts to reach zero-dose children (children who have not received a single vaccination), as well as those in humanitarian settings. Both speakers emphasized the importance of continued investments in health system infrastructure.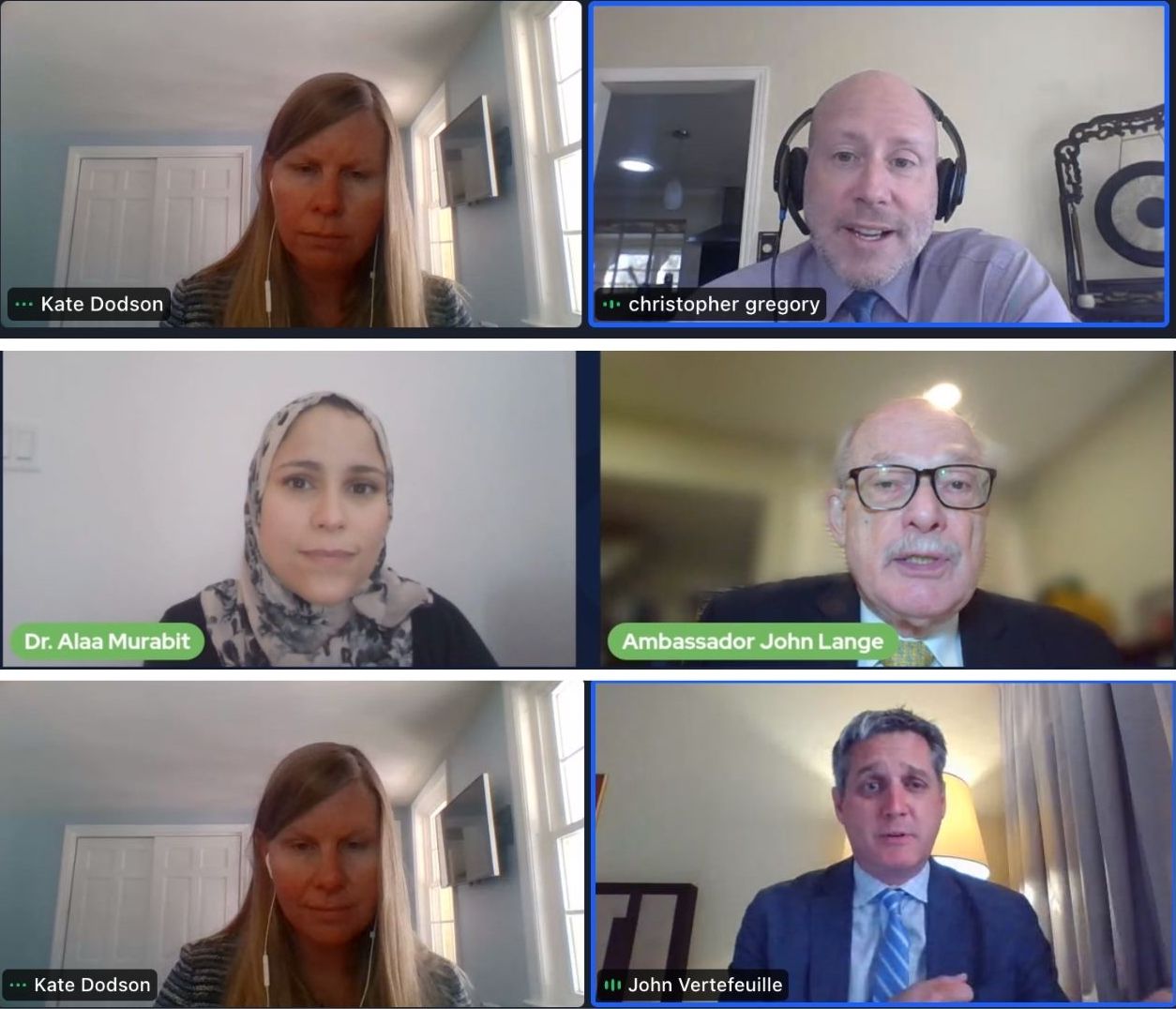 A Thank You Note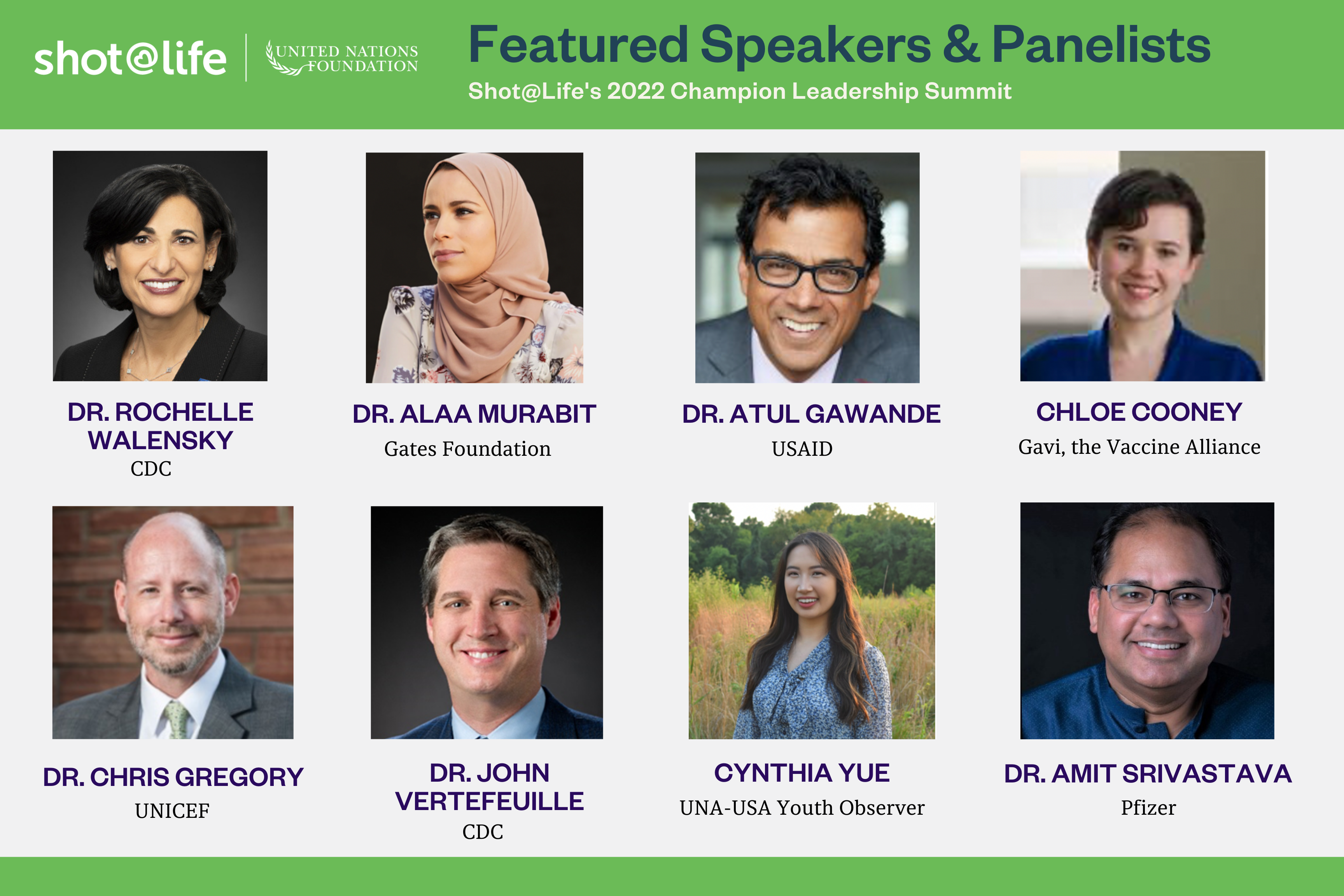 Finally, to our wonderful speakers, partners, and advocates around the country:  
Dr. Rochelle P. Walensky, Director at CDC

 

Dr. Amit Srivastava, Senior Director in Medical and Scientific Affairs at Pfizer

 

Dr. Atul Gawande, Assistant Administrator at USAID

 

Dr. John Vertefeuille, Acting Director at CDC

 

Dr. Christopher Gregory, Senior Advisor and Team Lead at UNICEF

Dr. Alaa Murabit: Director of Program Advocacy at the Bill and Melinda Gates Foundation

 

 

Congresswoman Pramila Jayapal, WA-07

 

Chloë Cooney, Director of U.S. Strategy at Gavi, the Vaccine Alliance

 

Kate Dodson, VP of Global Health at UN Foundation (UNF)

Mike Beard, Global Health Director at UNF's Better World Campaign
Brian Massa, Director of Global Health Advocacy at the United Nations Foundation

Dr. Selena Warminiski, Pediatric Pharmacist at University of California Davis Health

 

Cynthia Yue: UNA-USA Youth Observer

 

Elizabeth Thrush: Polio Advocacy Officer at UNF

 

Ambassador John Lange: Senior Fellow of Global Health at UNF

 

Peter Yeo: Senior Vice President UNF and President of the UNF Better World Campaign

 

Bridget Dotson: New Member Outreach Associate at UNF

 

Cindy Levin, Felisa Hilbert, and Dennis Ogbe, Shot@Life Champions

 
Our Summit and successful Hill Day could not have been achieved without you. On behalf of the entire Shot@Life team, thank you for everything you do to advance global childhood immunization. We are beyond proud of and inspired by your time and dedication—even in a virtual, socially distanced environment. Until next year!