Dr. La Vonne Downey has been a Shot@Life Champion since 2015. She is the Director of Health Sciences Administration and a Professor of Health Sciences at Roosevelt University.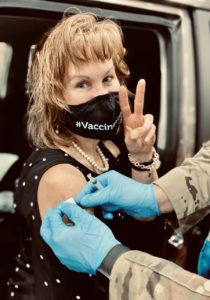 What first motivated you to become a Shot@Life Champion? 
I grew up overseas in places where there were a lot less resources than here in the United States. Gavi, the Vaccine Alliance delivers vaccines to many of these places, so I understand that people still get diseases such as polio that can be debilitating for life, or even fatal. I saw children die of things that you don't see people die of in the U.S. My experience and my studies in medicine and public health made me realize that there are no borders to illness, and everybody should have an equal chance at life. Vaccines are highly effective ways to ensure that everyone has that.
Why are you passionate about expanding access to vaccines for children around the world? 
I think we've seen from COVID-19 that vaccines are sort of "miracle workers." Public health is about preventing something from happening so that people can live healthy, productive lives. Vaccines give people that chance. Over the years, we've made them cheaper, and we've improved the cold chain supply, so there is no reason that people should not have access to them.
The UN and UNICEF have transformed vaccine deliveries into community-led efforts, so access to healthcare, which is a priority of WHO, is also becoming community-led instead of top-down through access to immunization programs.
What inspired you to do research on vaccine hesitancy?  
I've done research with training pharmacists and spoken about public vaccine hesitancy in Chicago since 2015. Back then, the highest vaccine hesitancy was not where you expected it to be – it was in one of the richest neighborhoods in the city. I think we've been very successful in our vaccination campaigns. Nobody sees or has polio anymore; nobody has measles or rubella in the country. We've had such a great and robust immunization effort in America through the healthcare system that people no longer think these diseases are a threat. I also think that some vaccine hesitancy comes from low health literacy and a lack of training of healthcare providers on how to talk to people and engage them about issues that they are hesitant about. Part of helping people overcome vaccine hesitancy is engaging them through long-term communication with them about health. In turn, they identify the person providing vaccine information as a trusted source to the community.
Overcoming vaccine hesitancy is not a "one and done." I do think that right now, we have an opportunity to provide healthcare workers with skills to translate knowledge about vaccines to people with low levels of health literacy.
What have you learned as a Shot@Life Champion? Can you describe your experience? 
I have adapted a lot of practices I've seen at Shot@Life to my own work in engaging communities in Chicago. I've also learned that people are interested in learning about vaccines, and they do care about each other; we simply must give them skills so that they can show it in their lives. Becoming a vaccine advocate – tweeting out to House representatives, providing information to neighbors – empowers more than just me or my students. It compels people to say, "yes, I can make a difference!" Every year when we get that vaccine budget passed in Congress, it feels amazing and reminds us that the work we do matters.
What was your experience at the Mobilize to Immunize Conference?
I always like how Shot@Life brings in diverse people who see and do stuff on the ground, because I want to hear from different groups of people. I really appreciate that we heard from people who deal with vaccine inequity in different parts of the world, nurses who are dealing with vaccine hesitancy here at home, and that we also get to engage with lobbyists. Setting up conferences and meetings is time consuming, and in the times of Zoom it has not been made easier, so I acknowledge the Shot@Life team for putting in the work every year.
Why should other people care about this issue, and how can they get involved?
I think we do belong to each other. Where you're born shouldn't matter. Vaccines are one of the most cost-effective tools we have for preventative health, and it's our responsibility to make sure everybody has access to them. We've been able to eradicate diseases like smallpox that kill children globally, and every year we learn more and more of what vaccines are capable of. As we've seen over the years and over the course of the pandemic, diseases know no boundaries or borders. Now that you can fly anywhere, any disease can spread in 6 to 12 hours. These higher risks mean higher responsibilities for us to make sure that everybody is safe.
You should get involved by advocating to vaccines, by talking to your neighbors about vaccines, and by educating yourself about the role of vaccines here in the U.S. and globally. Vaccines save lives – nobody thought we would get polio out of Africa, or that we would be so close to its complete eradication globally. That's the power of immunizations.