Setbacks in Measles Vaccination Coverage 
Measles is one of the most contagious diseases in the world, requiring that 95% of a community be immunized in order to create herd immunity or a "shield" to protect others who are unable to get immunized. The highly contagious disease killed 207,000 people in 2019, as cases hit a 23-year high.
New WHO and UNICEF data show that the coverage rate for people getting measles vaccines worldwide dropped to 84% in 2020. This means that 22.3 million children missed out on their first dose of the measles vaccine, leaving them vulnerable to contracting the disease.
Just two doses of the measles vaccine can stop the spread of the virus. To that end, countries launch regular nationwide vaccination campaigns to reach all children, including those in remote and hard-to-reach communities, and get to that 95% level. Unfortunately, these campaigns were disrupted by the COVID-19 pandemic. As of July 2021, 57 mass immunization campaigns for diseases including measles are postponed in 66 countries.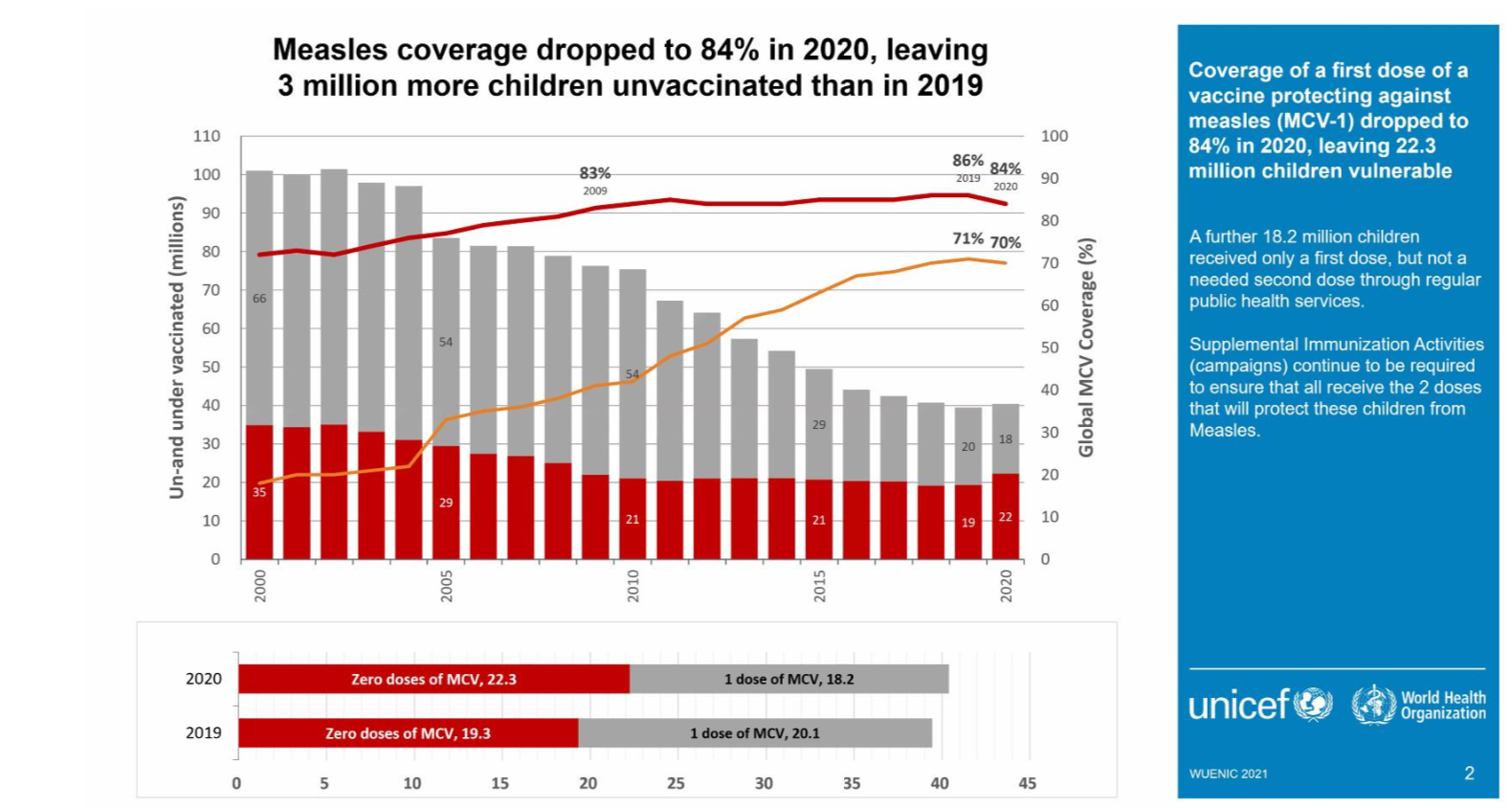 "Even before the pandemic, there were worrying signs that we were beginning to lose ground in the fight to immunize children against preventable child illness, including with the widespread measles outbreaks two years ago," said Henrietta Fore, UNICEF Executive Director. "The pandemic has made a bad situation worse." 
As COVID-19 restrictions end, it will be a race against time to immunize unreached populations to prevent outbreaks of diseases like measles. 
Partnering to Protect Against Measles
The Measles & Rubella Initiative (M&RI) partnership builds on the UN Foundation and M&RI's legacy of working towards measles elimination. Despite global progress – with measles vaccines saving more than 23 million lives since 2000 – measles remains a global challenge due to its highly infectious nature.  
Since 2016, Shot@Life and Takeda Pharmaceutical Company Limited (Takeda) have partnered to help expand access to lifesaving measles vaccines with the goal of reaching 5.4 million children in approximately 40 countries by 2026. To date, Takeda's investment has helped protect 3.8 million children in 22 countries and counting against measles. 
To this end, Shot@Life and Takeda's partnership is more critical than ever in its support for global measles immunization in underserved populations. In 2020 alone, Takeda's investment helped reach more than 300 thousand children with measles immunizations in nine countries: Eswatini, Kenya, Philippines, Equatorial Guinea, Gabon, Namibia, Romania, Serbia, and South Africa.  
While the ramifications of the COVID-19 pandemic can be seen all over the globe, the greatest effects will be felt in some of the poorest, most vulnerable countries, where health systems are already fragile.  
"Millions of children across the world are likely to miss out on basic vaccines as the current pandemic threatens to unravel two decades of progress in routine immunization," said Dr. Seth Berkley, CEO of Gavi, the Vaccine Alliance.  
Until a safe level of vaccination coverage is achieved, measles outbreaks will continue to occur wherever people haven't received two full doses of the vaccine.  
Future of Immunization Work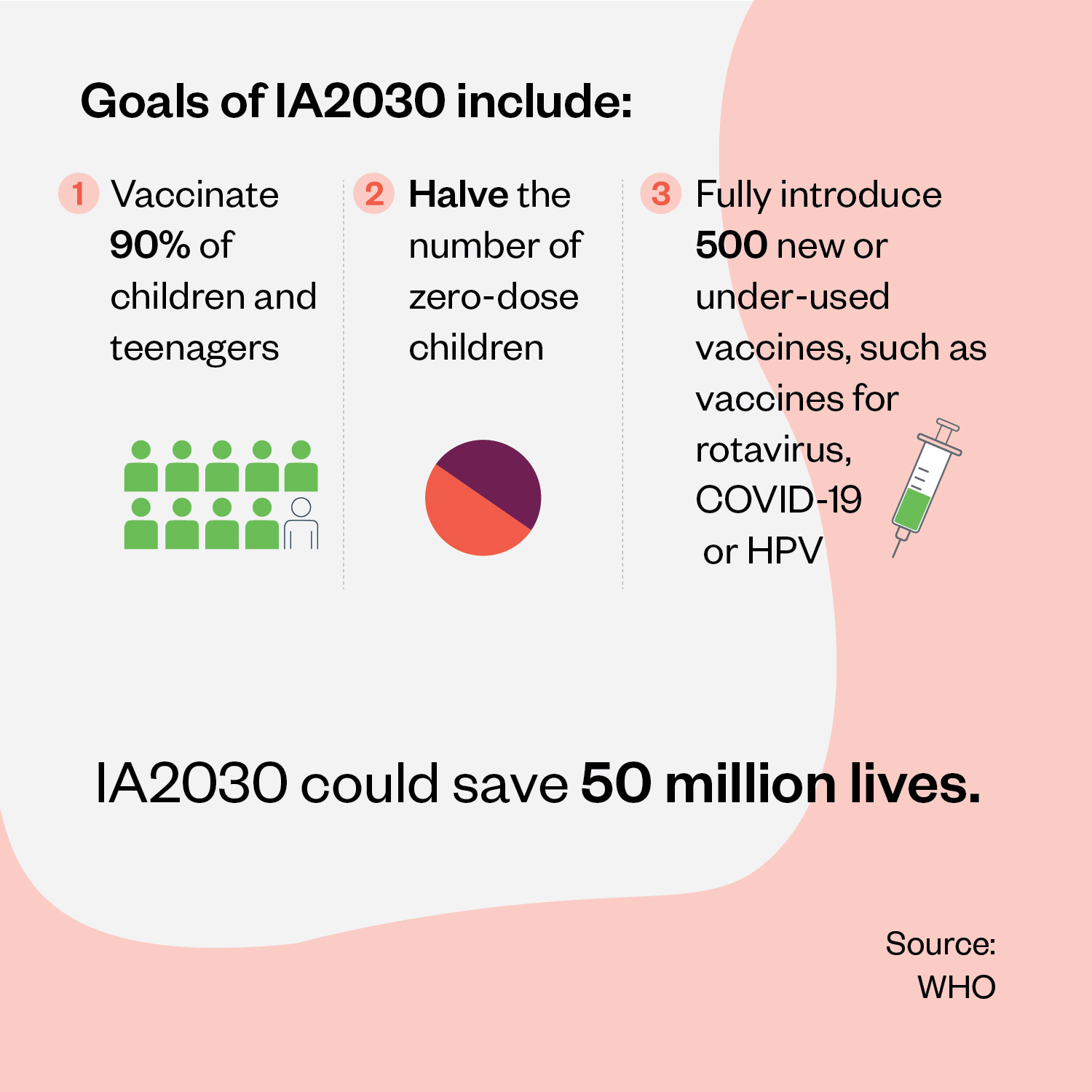 In 2020, WHO, UNICEF, Gavi, the Vaccine Alliance, and other partners launched the Immunization Agenda 2030 (IA2030) plan to ensure routine immunization is a priority for all governments, development agencies, and civil society as we work to build health systems back better. The ambitious plan provides a framework for:
Achieving 90% coverage for childhood vaccines

Halving the number of zero-dose children

Completing 500 introductions of new or under-utilized vaccines (such as COVID-19) in countries
Within this framework, funding from Takeda's Global CSR Program ensures that Shot@Life can continue to robustly support the lifesaving work of UNICEF and WHO in providing immunization services. It will help protect routine immunization progress in underserved communities around the world.