The last week in April marks both the World Health Organization (WHO)'s African Vaccination Week and World Immunization Week. Under the theme "Vaccinated communities, Healthy communities," the week aims to strengthen immunization programs in Africa by raising awareness around the fact that every person, especially every child, has the right to be protected against vaccine-preventable diseases.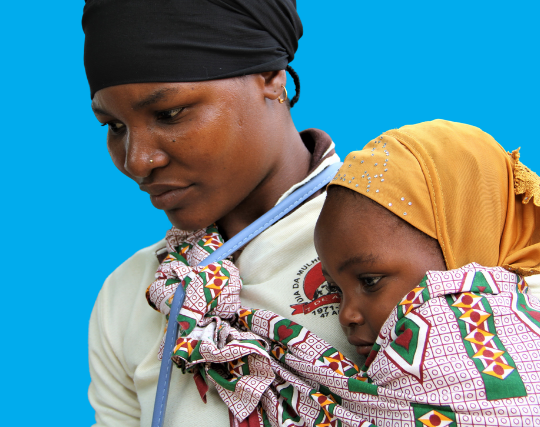 Although vaccines have been at the forefront of public attention during the COVID-19 pandemic, this World Immunization Week we are prioritizing the importance of routine immunization through advocacy and by unifying the diverse coalition of partners promoting vaccines globally. In addition to vaccines, many other aspects of global health—from therapeutics to cold chain readiness and health systems at large—are vital to ensure everyone can lead a healthy life.
This Africa Vaccination Week, Shot@Life is proud to celebrate our partnership with Takeda Pharmaceutical[i]to support health system strengthening efforts in 14 African countries. Since 2020, Takeda has partnered with Shot@Life to enhance disease surveillance systems, support vaccination efforts, and advocate for global immunizations through a commitment of 550 million Japanese yen (more than $5 million USD)[ii].
Through this program, Takeda's investment has helped train more than 2,000 health workers in Africa and supported the training of nearly 400 Shot@Life advocates!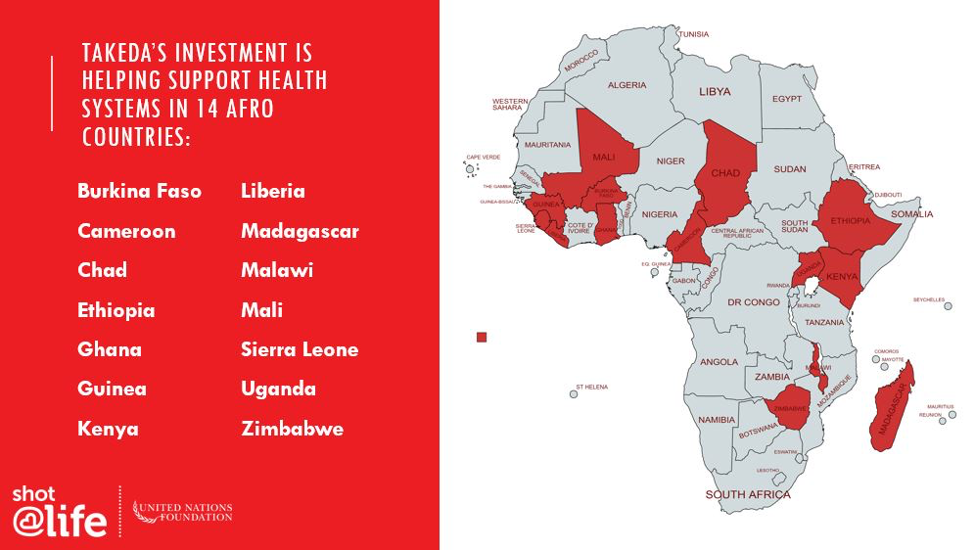 Resuming vaccination campaigns
In 2020, the world shifted its attention to respond to the COVID-19 pandemic. As a result, plans for regularly scheduled immunization campaigns and health worker trainings were disrupted. Takeda's support for health systems came at a time when ministries of health were working on getting routine immunization programs back on track. In countries like Ethiopia, Ghana, and Kenya, national authorities are working with WHO's regional office to prioritize and conduct surveillance trainings in districts with vulnerable communities. Surveillance trainings are crucial in order to build strong health systems that can detect, notify, and investigate suspected infectious diseases cases and outbreaks.
To safely resume mass immunization campaigns and health services, vaccinators had to be trained on COVID-19 prevention and provided with personal protective equipment (PPE). These steps are necessary in order to protect both health workers and the public from infection and enable countries to address health needs during a pandemic, while building capacity for disease surveillance.
Resumed vaccination campaigns are a welcome relief to many parents in Africa. In Ghana, thousands of vaccinators immunized more than 4.6 million children against polio in November 2020.
"It is good they are coming around to provide the services we are unable to go to the clinics for, said Aboagywaa Osei, a mother in Ghana whose five-month-old baby was immunized against polio. "We have been told that health facilities are safe, so we are confident to take our children to receive all the essential services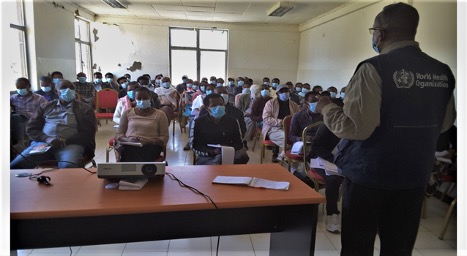 [i] For more information about Takeda, visit https://www.takeda.com
[ii] Financial information relating to the donation has been converted from JPY to USD using the ¥0.00911078:$1 as of March 27, 2020. For the avoidance of doubt, the amount payable as part of the donation are denominated in JPY.