Advocating for Immunizations One Year into COVID-19
Champion Cynthia Levin reflects on advocating for global vaccines at Shot@Life's Summit a year ago at the start of the COVID-19 pandemic.
Cynthia Changyit Levin has been a UN Foundation Shot@Life Champion since the launch of the campaign 10 years ago. She is the author of the upcoming book "From Changing Diapers to Changing the World: Why Moms Make Great Advocates and How to Get Started."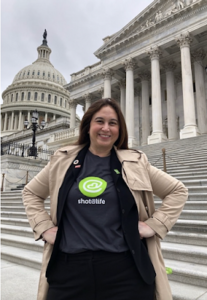 I stood on the steps of Capitol Hill, reflecting on a day of advocating for global vaccines at Shot@Life's Summit. It was February 26, 2020. I was lucky to talk to lawmakers in Washington D.C. just a few weeks before COVID-19 caused lockdowns in the United States. Like many times before, I was there as a volunteer to urge Congress to fund global immunization programs because every child deserves a chance at a healthy life.  
I had never felt so strongly that I was in the right place at the right time with the right message.
For 10 years, I'd continually pulled the attention of my senators and representatives to support global health programs for low-income countries. As information trickled in about the coronavirus, I sensed a new awareness growing among staff and members. Policymakers were, for the first time, considering how global diseases could touch them here at home. I didn't have all the answers about COVID-19, but I had answers about equitable and efficient vaccine distribution.   
In 2021, our Shot@Life conference and meetings with policymakers also happened virtually. How has our messaging changed in a year?
It's More Personal Now
In past conversations with members and aides, we focused on lives "over there" in other countries. I don't think they really heard me when I said, "Polio anywhere is a threat everywhere." They certainly didn't really think I meant here. Maybe I didn't even push that point as hard as I could have. 
Now, COVID-19 is here and more than 500,000 Americans are not. We've lost friends, family, and next-door neighbors (my neighbor was the first person I knew who died of COVID-19 last spring). We understand now what it is like to clamor for vaccines before loved ones contract a deadly disease. We travel long distances to access shots if we must. Recently, Texans were living through a disease threat while lacking basics like heat and water during snowstorms. Americans now experience their own personal versions of stories I used to tell about families in low-income countries. 
It's About More Than "Lives Saved"
My talking points used to center around how many lives we will save with our U.S. investments in programs like Gavi, the Vaccine Alliance. After all, Gavi helps vaccinate 86% of the world's children, so every increase brought us closer to a world where no child would die of a vaccine–preventable disease. 
Even beyond life-threatening hardships, my 2021 message is also about the other things that viruses take from us. People all over the world have lost income, education, the ability to gather with others, the freedom to travel, and so much more. Now that members of Congress see that their constituents feel the pain of these other losses, we can move the conversation beyond life and death. Now that the interconnectedness of the world is so obvious, we can talk about how the pandemic will not end for any of us until it's over for ALL of us.  
We Can Come Back Better
With all that COVID-19 has forced us to learn about vaccine distributions, we can now re-imagine the way we approach immunizations. We can come back better and more effectively with our new lessons learned. We can normalize public health and behavioral strategies worldwide, like: 
barcodes for vaccine vials for tracking accountability;

digital vaccine records;

vaccine registries;

employment of vaccine appointments for efficiency;

 

using cell phones for vaccine reminders;

physical distancing at distribution site to decrease 

infections;

 

and better hygiene. 
We're Not Helpless
Bad policies combined with bad luck are what got us into this.
Like so many are saying on social media right now, "It didn't have to be this way." But it doesn't have to stay this way either. 
There are already organizations in place that deliver health solutions worldwide, and we must join the rest of the world to fund them. By continuing our support of UNICEF, Gavi, the Vaccine Alliance, USAID, and the CDC for their existing infectious disease programs, we will also support the same infrastructure and workers that deliver COVID-19 vaccines, tests, and treatments.
YOU are not helpless. Help support Shot@Life supporters in our meetings by signing this petition to call on Congress to fully fund immunization programs, and join us come April 1 for Advocate2Vaccinate. 
You can help by calling and writing to your member of Congress to support Shot@Life volunteers in our meetings.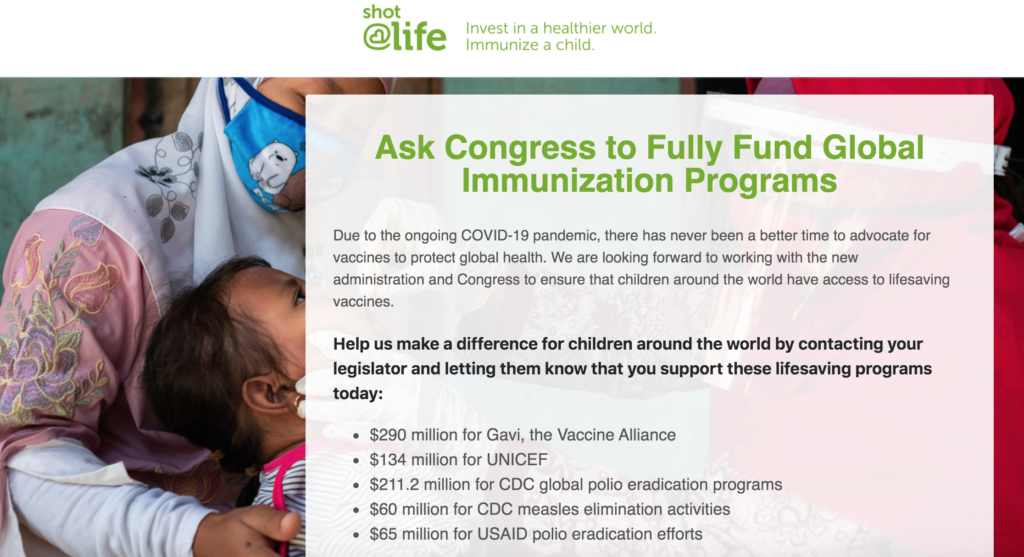 As the COVID-19 pandemic has demonstrated with devastating results, now is a critical moment to protect the progress made in immunizations, strengthen primary health systems, and enhance global health security against current and future disease threats. Together, we can ensure that no more lives are taken by COVID-19 or other vaccine-preventable diseases.