A Note From Our Grassroots Team
As we gear up for our first ever virtual Champion Summit, we wanted to write a quick note about what you can expect, as well as a note from a Champion about her experience advocating virtually at our Fall Summit. The COVID-19 pandemic has impacted all of our lives, especially many of our champions who were and remain working on the frontlines.   In accordance with public health guidelines and to keep our champions safe, we won't be meeting in person this year. But please know the Shot@Life team is hard at work to make sure you all get the full champion experience from the comfort of your home, including our first all-virtual Hill Day, and we can't wait to see your faces again, even if only on a computer screen.  Although we understand there's a lot going on at home, we encourage folks to be ready to be on video and fully engaged throughout the entire program. We understand you'll be joining from home, so your family members (both 2- and 4-legged) are welcome!  – Ali Hoffman, Shot@Life
---

Highlights from Champion Katarina Newcamp
As a freshman at the University of Iowa, I had no idea how pivotal joining Shot@Life would be to both my college experience and my future career path. I joined Shot@Life because of its combined focus on education, community organizing, and member-level advocacy. The work that Shot@Life Champions and partner organizations do to facilitate the creation and success of health care networks around the world is critical for both healthier and more peaceful nations.  
Through planning advocacy events, advocating to our members of Congress, and attending weekly meetings, I have made several life-long friends in my on-campus Shot@Life club. Additionally, the inspiring leadership and devotion of both the Shot@Life team and the community of advocates from around the country has been a comfort and source of motivation during my four years as a Champion. 
In the turmoil of 2020, a source of normalcy was the Shot@Life virtual Fall Leadership Summit. It was wonderful to see the faces of advocates that I have come to know, having attended the annual Leadership Summit in D.C. for several years. 
Though the format of the conference was different, I left the week-long event with a renewed energy for activism.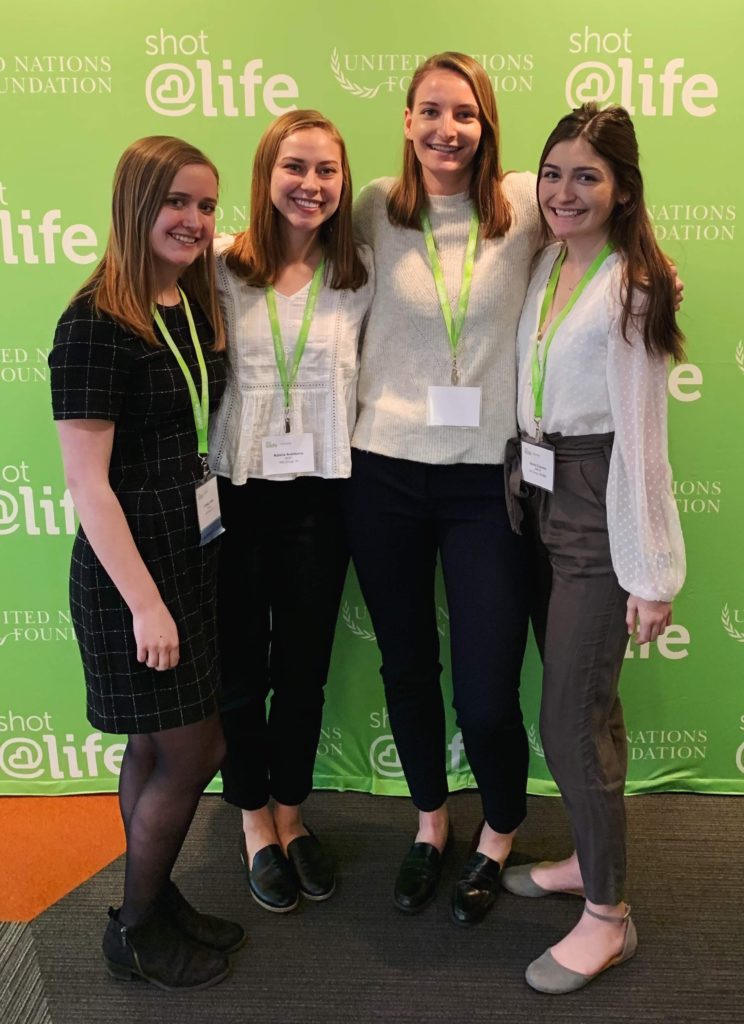 I was reminded that global health advocacy is as important as ever, especially because our representatives are dialed in to the consequences of inadequate global health systems. Hearing Dr. Chizoba Wonodi speak about her experience organizing for vaccine access in Nigeria and the similarities between the work of her coalition, Women Advocates for Vaccine Access, and the work of Shot@Life Champions in the United States felt uniting in a time of such disconnect.  
Meeting with my congressional offices via Zoom was surprisingly fun, and it was great to meet with staffers that have come to know Shot@Life and Iowa advocates over the past several years. I am always surprised at how receptive my congressional offices are to our message and appreciate how engaged the staffers and members are. Though I am sad to not be able to advocate in-person this year, I'm looking forward to creating relationships with our new members of Congress and their offices, both in D.C. and in Iowa, this spring. 
One of my favorite parts of each Summit is getting to see the graphic showing the growth, and recently, stability of global health funding since the start of Shot@Life advocacy in 2012. A drawback of advocacy and engagement with politics for many people is the feeling that they can't make a difference. Being an advocate with Shot@Life is especially rewarding because of the concrete evidence of the efficacy of our efforts. Shot@Life Champions have been an important force in protecting global health investments, which directly translates into more children receiving lifesaving vaccines. I'm excited to be part of such an inspiring group of advocates and look forward to connecting virtually with this great community at the Spring 2021 Champion Summit.