Global Health Council Hosts Virtual Summit on Pandemics, Politics, and Privilege
This guest blog was submitted by Heyab Ogbasion and Ansley Kahn at Global Health Council, which brings together the global health community to raise awareness and catalyze action around important global health issues.
Since 2015, Global Health Council (GHC) has convened members of its network in Washington, DC for an annual summit to discuss current trends and calls to action in global health. Last year's Global Health Landscape Symposium explored a number of themes and considerations to get to the heart of what #DemocratizeGlobalHealth means. This year's summit expanded upon that theme amid the COVID-19 pandemic with a focus on Pandemics, Politics, and Privilege: The Good, Bad, & Ugly U.S. Legacy in Global Health. This two-day convening was an opportunity for deep reflection and dialogue about how we should approach U.S. global health investments and initiatives with a stronger focus on equity, justice, and humility.
In perfect 2020 form, the summit was held virtually with over 550 attendees logging in from locations across the globe. Prominent global health leaders joined the meeting to share their thoughts on a range of topics, including inequality and systemic racism, lessons learned from COVID-19, support for the World Health Organization (WHO), and what the recent U.S. election means for global health.
"We felt that it was critically important that we have one, whole conversation with a number of these things in mind, recognizing the overlap between them…"
 


Loyce Pace, President of the Global Health Council and newly appointed to President-elect Biden's COVID-19 Advisory Board, explained the rationale behind the unique summit theme and pillars in her introductory speech. She noted that 2020 had been fraught with news of racial injustices, global inequities, and a volatile political climate.
Privilege
"Unpacking race, privilege, and intersectional bias as drivers of global health policy."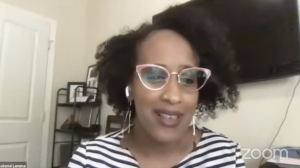 Solomé Lemma, Executive Director of Thousand Currents, provided the opening keynote focusing on how institutions and individuals can use "anti-racism" to move beyond the current colonial framework in U.S. global health. She said, "I once heard that the opposite of exclusion isn't inclusion; it's decolonization…We're being called to create new ways of being, knowing, and doing."
GHC members were later invited to participate in a discussion further exploring how to decolonize international development and what it could look like in global health. PopWorks Founder Stephanie Kimou gave a powerful presentation and prefaced her comments by saying that white people should not be dissuaded from working in the Global South. However, they should understand how their presence can be triggering to local communities with a painful history of colonization. She made three key recommendations: 
Pay local partners fairly.
Cite the research of local experts.
Make indigenous ownership and leadership the standard—not the exception.
Pandemics
"Building back better after Covid-19…to what and for whom? Critical supplies… have been a tremendous challenge for African countries throughout the pandemic, and this, I believe, has lessons for what we need to do in building back better."
Dr. Matshidiso Moeti, WHO Regional Director for Africa, provided a moving keynote that highlighted the inequities brought to light by COVID-19, both in the U.S. and internationally. Looking to the future, she called on governments and stakeholders to invest in equity and justice across all development sectors, engage communities before outbreaks occur, and improve supply-chain efficiency.
Politics
In the session titled "The future of U.S. Global Health: Reimagining Initiatives and Investments," country and community leaders gave their take on existing U.S. global health policies and how they perpetuate a culture of colonialism. In a pre-recorded keynote, Congresswoman Barbara Lee said, "We've seen inadequate healthcare systems that have been discriminatory, leading to disparities which have led to immoral rates of transmission and deaths of black and brown and marginalized people throughout the world."
To repair the damage, she asked participants to help dismantle racism by increasing their own advocacy efforts. She called on the global health community to participate in elections, join peaceful protests as advocates, and let decision-makers know it's time for a power shift. She ended the speech with a rallying cry from fellow congresswoman Ayanna Pressley: "The people closest to the pain should be closest to the power."
Power & Global Solidarity
In our final session, Winnie Byanyima, Executive Director of UNAIDS, shared her thoughts on what it takes to be "anti-racist" in global health, specifically in the fight against HIV. This includes supporting WHO and placing equality and human rights at the center of its global development agenda.
"To be anti-racist is to say: let's look at everything—the systems, the structures, the policies, the rules, who is at the table—and examine them for racial equality. You challenge everything."
The final panel of the conference featured a globally diverse cross-section of movement leaders who reject the status quo and engage in creative, visionary models of transnational solidarity in their global health practice.

What's Next
GHC is committed to using these key takeaways and continuing to facilitate the important conversations had during these sessions. The organization recognizes that pandemics, politics, and privilege are only part of the puzzle to ensuring that we create a more inclusive path to achieving global health. As we continue our efforts in this space, we will work to elevate the voices of those at the frontlines, our colleagues in academia, and the larger community for equity in public health. GHC will continue to advocate for equity in global health, including in the near future for the equitable distribution of the COVID-19 vaccine.
For a recap of GHC's 2020 summit, check out their YouTube channel. Keep up with Global Health Council on Twitter @GlobalHealthOrg and by subscribing to their monthly newsletter!