Every year, our champions step up to use their voices and help increase vaccine access for children all over the world. This year was no different. From October 1 to November 12, Shot@Life advocates came together to "race to erase" childhood illnesses. In all 50 states, Shot@Life champions across the country rallied together to raise awareness for World Polio Day, World Pneumonia Day, and global vaccine programs in the 2021 U.S. budget.
Even with ambitious goals set through the month and a half long activation, Shot@Life champions exceeded all goals. COVID-19 proved to be no challenge, as advocates enthusiastically set up calls and Zoom meetings with staff members from their representatives' offices. In total, champions had more than 100 meetings, made over 200 calls, and made a concerted Twitter wave vocalizing their support for global immunization programs.
Check out the highlights below: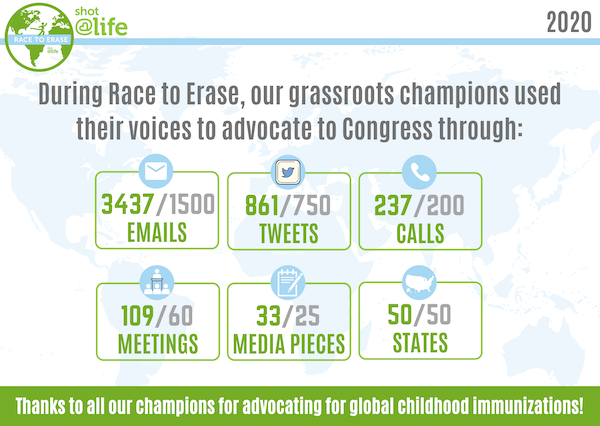 Published Letters to the Editor
This fall, Shot@Life champions also put pen to paper and submitted 31 letters to the editor, exceeding our goal of 25! You can read a few below to see how fellow champions are using their voices to become leaders in their community. For a full list of published letters from previous years, check out the News page.
Arkansas: Anchorage Daily News
California: Marin Independent Journal
Idaho: Coeur D'Alene Press
Minnesota: Post Bulletin
North Dakota: Bismarck Tribune
Nevada: Las Vegas Sun
South Carolina: The Post and Courier
South Dakota: Rapid City Journal
Tennessee: Herald-Citizen (Page A4)
Virginia: Virginia Pilot
Wisconsin: Baraboo News Republic
West Virginia:  Times West Virginian
Want to become a Shot@Life Champion?
February is right around the corner, which means our virtual Spring Summit and upcoming Advocate2Vaccinate activation are coming up! Keep an eye out as applications for the Spring Summit open in December. If you're not already a champion, sign up for one of our upcoming trainings.
Thank you for your advocacy!