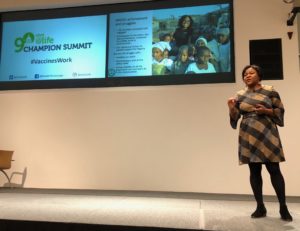 Dr. Chizoba Wonodi speaking at the 9th Annual Shot@Life Champion Summit
International Women's Day is a global day commemorating the social, economic, cultural and political achievements of women. Here at the Shot@Life Campaign, we want to take the time to celebrate the contributions women have made throughout history in global health. As a public health physician and vaccine advocate, Dr. Chizoba Wonodi is leading change in improving primary health care systems in her home country of Nigeria. In 2011, she founded the Women Advocates for Vaccine Access (WAVA), a coalition of women-focused civil society organizations in Nigeria advocating for increased routine immunization and sustainable vaccine financing. With the support of Johns Hopkins University International Vaccines Access Center (JHU-IVAC), WAVA is on a mission to help improve immunization services throughout Nigeria.
Dr. Wonodi started WAVA to empower women of all professions to use their voice to fight for women's and children's right to vaccine access. She is committed to working with women advocates as she believes they are natural collaborators, social justice warriors, and never take no for an answer. With 50 active members, WAVA was able to successfully advocate for Gavi, the Vaccine Alliance, to extend their period of support to Nigeria to 2028. They also were able to distribute grants to members such as the Vaccine Network, a non-profit focused on promoting health and development through policy, advocacy, and immunization campaigns.
Aside from WAVA, Dr. Wonodi is currently the principal investigator for a Gates Foundation-funded project to increase immunization uptake by sending SMS messages to educate and remind caregivers of their child's vaccinations. With over twenty-seven years' experience with projects in Africa, Asia, and America, Dr. Wonodi is making great strides in achieving fairness and equity in global health. We celebrate her contributions in decreasing vaccine-preventable childhood deaths and making sure every child gets a shot at life.