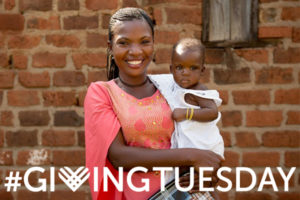 We want to live in a world where all children can grow up happy and healthy. Vaccines make this aspiration possible. When we invest in the "best buy in global health," we give more children a shot at lives filled with the special moments they deserve.
Join us this #GivingTuesday and do a world of good by helping children everywhere access lifesaving vaccines. Share about our campaign on your social media channels with a link to www.shotatlife.org/donate.
Remember to speak from the heart and make it personal. Let your followers know what led you to advocate for global vaccine access. Are you a healthcare professional, educator, and/or parent? Have you traveled to the field? Have you attended one of our Champion Summits in Washington, DC? Share you story with friends and family to welcome them to the cause.
Use familiar messages. As you make your case for Shot@Life, feel free to incorporate our regular hashtags #VaccinesWork and #VaccinesSaveLives, along with #GivingTuesday.
We can't wait for you to do a world of good with us!