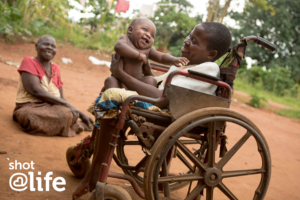 Today, October 24, is World Polio Day, a day where we recognize the global efforts to create a world without polio and honor the survivors of this disease. 2019 has shown huge gains in the global fight to bring an end to wild poliovirus.
Just today, it was announced that the world has successfully eradicated wild poliovirus type 3. This means that through our collective efforts, two of the three types of wild poliovirus have now become a thing of the past. It also means we have moved one step closer to finishing the fight against polio around the world.
Earlier this year in August, Nigeria–a country that once accounted for 80 percent of global polio cases in the early 2000s–marked three years since its last case of wild poliovirus. As one of only three countries in the world where wild polio still exists, this milestone is a momentous one, and a critical step in ensuring that the entire African region can be declared wild polio-free – potentially as soon as 2020.
The Pan American Health Organization (PAHO) is also marking a significant milestone this year: 25 years of the Americas being free from the debilitating wild polio virus. That means for a quarter of a century, no parent in the Americas has had to live with the fear of their child being paralyzed as a result of this disease.
These regional and global successes did not come easy. They were painstakingly secured through house-to-house immunization campaigns and doing the hard work of mobilizing community leaders and health workers to ensure every child, everywhere could–and did–receive their lifesaving polio vaccines. By working through the community, polio eradication programs were able to build trust and confidence in these vaccines, even in the most remote, and sometimes conflict-torn areas.
This kind of work does not come cheaply either. That's why it's critical for global donors to continue to invest in global polio eradication efforts, despite the often arduous journey and setbacks these programs have faced.
The Global Polio Eradication Initiative will ask the global community to pledge the resources needed to achieve polio eradication this November at the Reaching the Last Mile Forum in Abu Dhabi. This financing ask comes at a critical crossroads: we have the choice to either fully invest in protecting the significant gains we have fought so tirelessly to achieve and conquer polio once and for all, or we can watch our progress backslide and once again wake up to headlines around the world of children being paralyzed from this disease.
Some have questioned whether eradication is a worthy and feasible goal. But here's some food for thought: The World Health Organization estimates that if all polio vaccination activities were stopped, the virus could see a rapid resurgence and paralyze more than 200,000 people per year.
We know there are very real challenges that remain as we try and go the last mile toward global eradication, including an increased number of polio cases this year  in Afghanistan and Pakistan and ongoing cases of circulating vaccine-derived polio (which occurs in a very small percentage of the population in areas with low vaccination coverage). But we also know that this is even more reason to redouble our efforts and make the financial and political commitments necessary to finish the job.
As former Director-General of the World Health Organization Dr. Margaret Chan said, "Twenty years from now, how could you look a young polio victim in the eye, knowing the paralysis will last for life, and tell him or her that we had the opportunity to eradicate polio and almost succeeded — but we gave up because it was really hard?"
Our responsibility as a global community is clear: ensure no family ever again has to have their life threatened by polio. Today, as the world comes together to look back at past polio elimination achievements and set our eyes towards the future, we must commit to going the last mile and reaching our destination.
Ready to take action? Tweet this message at your members of Congress: "Dear @RepX, immunizations are one of the most proven and cost-effective ways to keep children healthy around the world. Join me in supporting global immunization programs this #WorldPolioDay, because all children deserve a @ShotAtLife."