Janice Hawkins is a standout Shot@Life champion and faculty member at Old Dominion University in Norfolk, Virginia. She teaches in both the pre-licensure and post-licensure undergraduate nursing programs. Additionally, she serves as the Chief Academic Advisor for the School of Nursing. Among Janice's many noteworthy qualities is her leadership — she consistently introduces new people to the campaign, inspiring her students and colleagues to become lifelong global vaccine advocates with Shot@Life.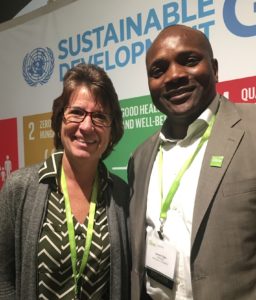 What motivated you to become a Shot@Life champion?
A colleague from work introduced me to the Shot@Life Campaign.  She was aware of my interest in Global Health and, in particular, health care issues in resource-limited countries.  My participation in multiple medical mission trips around the world increased my awareness of the limited access to lifesaving vaccines in many countries. As I learned more about the mission of Shot@Life, I knew that I wanted to be a leader in supporting the grassroots efforts to decrease vaccine-preventable childhood deaths across the globe.
You have been a champion for many years and attended several Champion Summits in Washington, D.C. What moments have been particularly meaningful to you?
I've been a Shot@Life champion for only a few short years but, as a maternal-child nurse, I've been an advocate for vaccines for many years.  For me, the most meaningful aspect of attending the Champion Summits is the working skills that I have gained as a political activist.  Prior to joining the campaign, I had minimal experience interacting with members of Congress. I was unfamiliar with the process and found it intimidating.  The Shot@Life training, resources, and mentored experiences have greatly increased my political advocacy knowledge and skill set.  I'm much more comfortable now communicating with my representatives via multiple mechanisms to ask for their support for global childhood immunization programs
How do you think about your dual role as a healthcare professional and advocate?
Advocating for global access to lifesaving vaccines is a natural fit with my role as a healthcare professional.  Nurses are well known for our patient advocacy skills and consider it a tenet of our profession.  In my early years of nursing, part of my role as a maternal-child nurse was to teach parents about the importance of vaccinating their children.  I'm also a retired Army Nurse and, therefore, very aware of the link between vaccinations and military readiness. My background has made me a strong supporter of immunizations. Currently, I work as a nursing faculty member at Old Dominion University, where I teach an online global health course and lead annual study abroad programs for health science majors. Part of my role as nursing faculty is to teach nursing students to become advocates for both their individual patients and the global community.  This particularly includes advocacy for vulnerable populations. Political activism is an important and effective means of advocacy for vulnerable populations in the global community.
What would you tell others about getting involved with vaccine advocacy?
My favorite thing to do as a Shot@Life champion leader is to help others get involved.  Primarily, I tell them of the importance of the campaign. Many are unaware of how many children around the world die from vaccine preventable diseases. My goal is to increase awareness of this.  Then, I tell them the impact of the Shot@Life campaign. We're saving lives here!  Finally, I let them know how easy it is to get involved with Shot@Life.  I provide very specific examples of ways that everyone can take action now as vaccine advocates.  This includes small, easy action items such as sending pre-scripted emails to their representatives and supporting the Walgreen's Get a Shot, Give a Shot campaign to more involved action items such as meeting with members of Congress.  I think my biggest contribution has been to serve as a mentor for those taking the first steps to becoming engaged vaccine advocates.  I help them get involved by sharing many of the resources provided by Shot@Life and by walking them through the process of different advocacy actions.  For example, I help them set up visits with members of Congress and assist in obtaining informational packets to leave behind. I provide one-on-one training to prepare for congressional visits and then go with them for support and to serve as a role model during meetings. I've found this to be a very rewarding experiences as I watch others find their voices and gain confidence toward becoming lifelong advocates.