Megan McFadden is a student from Illinois, Shot@Life Champion, and member of the Girl Up Campaign. As one of our youngest advocates, Megan shares a unique perspective on getting involved in global issues, like access to healthcare and education, while still in high school.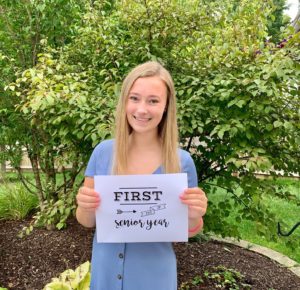 "On a sunny morning last week, I had a first that was also a last – it was my last first day of school. I started my senior year in high school, and that brought a whirlwind of feelings. Going into senior year, I am excited, stressed, and a little nervous. But more than anything, I am grateful. I know that I am fortunate enough to be healthy and able to attend safe and reliable schools all my life.
Before enrolling in school this year, I had to get a vaccination. My mom had me make the appointment. I went to the doctor's office a few minutes from my home, and I did not have to wait long to get a shot that would help protect me from disease. I have done this many times in my life. When I was little, vaccinations scared me. Now, I feel lucky to be able to receive a little pinch in exchange for protection from frightening diseases. It did not hurt. Even if it had, I know a few moments of discomfort are well worth a lifetime of protection.
Other children around the world do not have that protection from deadly diseases. That is why I am a Shot@Life Champion. In the United States, we just assume that children will grow up, go to kindergarten, and work their way through school. In other parts of the world, that is not nearly as common. The knowledge that one in five children dies before what is kindergarten age in the U.S. makes me feel incredible sadness for those kids and their families. Vaccinations are remarkable. I am thankful for the opportunity to receive mine easily and quickly, and I am thankful that my peers do so as well. I want to make sure all children get the immunizations they need, just like I did.
I am grateful for my access to vaccines and grateful for my access to education. I attend a public high school that is around six miles from my home. I took that access for granted but through Girl Up, I have become increasingly aware of how lucky I am to have the privilege to go to school. There are about 130 million girls around the world who are not that lucky. I had always known that not everyone went to school, but until recently, I had no idea just how many girls did not go and all the obstacles in their way that kept them out of class, whether because they are not allowed to go or unable to afford it or have no way to get to a school that is far away from their homes. Hearing about this made me angry, sympathetic, and, once again, very grateful.
Through Girl Up, I have gotten to meet and form friendships with girls from Liberia, Brazil, Taiwan, and other countries. I have realized that while our countries may be very different, we have a lot in common. I am pretty sure the girls around the world who lack access to education are like me and my friends around the globe – we have dreams for our lives when we reach adulthood. We are much more alike than we are different. It is so easy to take school for granted, but it is so important not to.
Gratitude is good, but gratitude combined with taking action is even better. I started a Girl Up Club. We are raising awareness and money to hopefully give more girls access to education. We have participated in the Global 5K and hosted both a bake sale and a fundraiser at Chipotle that drew a big crowd, including our Congressman, Rep. Bill Foster. I had met with him before on behalf of Shot@Life, so we talked a bit about the Sustainable Development Goals of the United Nations and how they do not exist in isolation. They are all related.
I am grateful that the United Nations Foundation houses both Shot@Life and Girl Up, and that both campaigns have furthered my education outside the classroom. I have learned facts and issues that are not in my text books, and they have taught me how to be an advocate for the change I wish to see. I have gotten to share some of that information during school projects and as part of my work to earn an Illinois Global Scholar Certificate. So far that has included presentations on international vaccine programs, UNICEF, and what foreign aid looks like in the context of the entire federal budget – even my teacher was surprised to learn that it is barely 1%.
Thanks to the experiences I have had with Shot@Life and at the Girl Up Leadership Summit in Washington, D.C., I discovered a passion for policy and political science, which I hope to pursue in college. But first I have to finish high school. I am excited to continue learning about the challenges to health and education that children around the globe face, while simultaneously developing my skills so that I can work to make sure all kids get to see their senior year of high school, too."