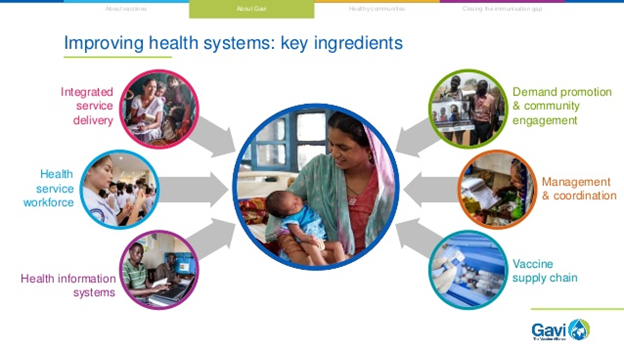 Gavi's story begins at the end of the 20th century, when global immunization efforts were beginning to plateau. Despite promising progress in the previous two decades due to the Expanded Program on Immunization (EPI), there remained 30 million children living in poor countries who were not fully immunized. Coverage was stagnating and, in some places, even declining. Even though new lifesaving vaccines were becoming available, beyond the original six EPI vaccines, virtually none were reaching children in developing countries — those who needed them most — because they were too expensive.
With the help of a US$ 750 million five-year pledge from the Bill & Melinda Gates Foundation in January 2000, the Global Alliance for Vaccines and Immunization (Gavi) was created. A unique public-private partnership, Gavi was created to bring together the best of what key UN agencies, governments, the vaccine industry, private sector, and civil society had to offer to improve childhood immunization coverage in poor countries and to accelerate access to new vaccines.
This model was designed to leverage financial resources and expertise to help make vaccines more affordable, more available, and their provision more sustainable by working toward a point where developing countries could pay for their own programs. By 2018, Gavi had reached over 700 million children since its creation and had prevented more than 10 million deaths. And that is only the beginning. Gavi aims to reach 300 million children between 2016 and 2020, preventing 5-6 million deaths over the next many years.