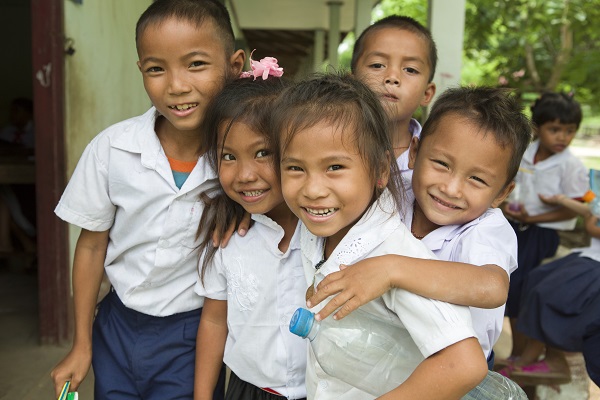 This Monday, November 12 we mark World Pneumonia Day, a day designed to bring awareness to the fact that more than 800,000 children still die every year from this deadly disease.   Pneumonia kills more children – many under 2 years old — than any other infectious disease and causes suffering for millions of others.
Thanks to vaccines and antibiotic treatment, enormous gains have been made over the past 10 years, and the World Health Organization (WHO) reports that more than 47 million children have been protected from pneumonia.  This has been, and continues to be, a group effort.  Shot@Life's partner, Gavi, the Vaccine Alliance, works with pharmaceutical manufacturers to keep the pneumococcal vaccine affordable and in abundant supply. Our UN partners, UNICEF and WHO, are on the ground in countries around the world, working closely with ministries of health to ensure all children are reached.  We are grateful for the progress that has been made, but we must do more.  No child should suffer or even die gasping for breath when this disease is preventable.
Johns Hopkins University's International Vaccine Access Center (IVAC) has released its annual progress report on pneumonia and diarrheal disease which contains many interesting insights. We know, for instance, that pneumonia is strongly linked to poverty-related factors such as malnutrition, lack of access to safe water, poor sanitation, indoor air pollution, and inadequate access to health care. Thus, we must attack this problem in an integrated, holistic way, and, in the fight to tackle so many humanitarian issues, we need better data.  Better data will allow us to see patterns, react to those patterns, and create systems efficiencies that allow us to reach children in the hardest-to-reach places.  As Kate O'Brien, Executive Director of IVAC says in the report, "We can't fix what we cannot measure."
With better data and information, we can tailor our pneumonia prevention and treatment efforts to best fit each impacted community. We must put more emphasis on the areas and countries with the greatest.  IVAC reports that 70% of the world's under-5 pneumonia and diarrhea deaths take place in fifteen countries, in order of highest burden – India, Nigeria, Pakistan, DRC, Ethiopia, Chad, Angola, Somalia, Indonesia, Tanzania, China, Niger, Bangladesh, Uganda, Cote d'Ivoire – when only 55% of the world's under-5 children live there.
This World Pneumonia Day, Shot@Life thanks our partners UNICEF, WHO, and Gavi, the Vaccine Alliance for the tremendous work they have done to reduce child deaths by pneumonia, and we pledge our continued support of their lifesaving efforts.