Get to know Cara Ciullo, deputy director for Shot@Life. As deputy director, Cara provides key strategic, operational and programmatic leadership to the campaign; manages team members and initiatives; oversees execution of partnerships and communications; helps review and oversee grants and budgets; and helps operationalize activities related to the campaign in collaboration with the Senior Director and other UN Foundation staff. As one of our fearless leaders, Cara is a true champion for our campaign's mission and work. Read more about her time with our team and why she thinks everyone should support Shot@Life.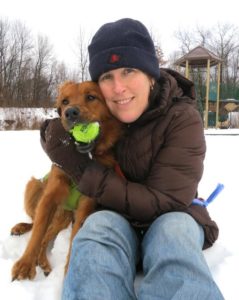 How long have you been with Shot@Life?
I have been at the UN Foundation as a member of the Shot@Life campaign team for a little under a year and a half, but I've been advocating for more of the world's children to have access to lifesaving vaccines since 2007.  You see, I served in the international services division of the American Red Cross for a decade and they, along with the UN Foundation and other organizations involved in global health work, are founding partners of the Measles & Rubella Initiative.  Go, vaccines and healthy children!
What has been your favorite moment since joining the team?
I hate to be redundant and repeat what many of my teammates have said, but our annual "Champion Summits" and associated grassroots advocacy days on Capitol Hill are a rush.  I've worked for a number of non-profit organizations over the years and spending time with volunteers – people who are SO passionate about an issue they dedicate hours and hours of their time without pay – is always inspiring.  It is amazing when national and global citizens engage to make the world a better, kinder, more just place.  Our grassroots advocacy volunteers (a/k/a "Shot@Life Champions") from around the country knock my socks off and, when they storm Capitol Hill in the hundreds to make their voices heard by members of Congress, it is powerful.
What do you think the biggest challenge is for vaccine advocacy?
The sheer number of issues we must tackle (simultaneously!) as a country and world makes it difficult to bring focus to any one issue.  This is why clear and compelling, broad-based, sustained advocacy is important.
What do you wish people knew about Shot@Life/Vaccines/Advocacy?
About the Shot@Life campaign – I want people to know that we both directly support (with resources contributed by our private donors) the on-the-ground, global childhood vaccination programs of our UN partners; and  amplify our donors' investments by conducting a grassroots advocacy campaign that helps  protect hundreds of millions of dollars in US government investments in these same on-the-ground programs each year.  So, if you want to give children around the world access to lifesaving vaccines, investing in the Shot@Life campaign is a really smart way to leverage your philanthropic dollar.
About vaccines – If you want to improve health and save lives in this world, vaccines are one of the most efficient and effective ways to do that.  Vaccines are an incredible philanthropic investment as they produce tangible, measurable results.  There are few, clear answers to solve many of the world's complicated problems, but to combat infectious diseases, we have a proven solution – VACCINES!
About advocacy – See my answer to the "favorite moment" question above.  If you want to experience democracy in action, become an advocate for things you are passionate about and make your voice heard by your members of Congress.  They serve to represent their constituents, so plug in and tell them what is important to you.
Why did you join the Shot@Life team?
This is a dedicated team of professionals committed to giving children in resource-challenged countries access to the vaccines we take for granted here in the U.S. It is a privilege to be part of this team and work at the UN Foundation.
Do you have any fun facts that our champions may not know about you?
I had a conversation with Meryl Streep over a huge mound of bacon and Mikhail Gorbachev once thanked me personally.  Long stories…