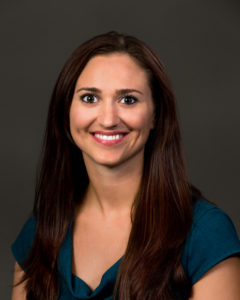 Many of our champions already know Rebecca Maxie. As the Manager of National Grassroots Strategy for Shot@Life, Rebecca leads our nationwide network of champions; guiding, educating, and empowering, along the way. Before joining the United Nations Foundation, Rebecca spent several years managing political campaigns and causes through her leadership roles in various national political firms and has previously lived in both Italy and Ukraine. She now uses her wealth of political and international experience to advocate for every child's opportunity for a shot at living a healthy life.
How long have you been with Shot@Life?
I joined the Shot@Life team a little over 2 years ago.
What has been your favorite moment since joining the Shot@Life family?
My favorite moments with the campaign have been during our annual Champion Summits, where I get to witness the passion of our champions firsthand! It's amazing to see our champions take over the Hill for a day, and it's even better to participate in meetings with them and see the impact they're able to make on members of Congress and their staff. It's also a great opportunity to finally see the amazing people we work with all year long in person, letting us catch up with longtime champions, and being able to put faces to the names for all of our first-timers!
What do you think the biggest challenge is for vaccine advocacy?
Right now, I think the biggest challenge for vaccine advocacy is that there are simply so many issues that people are passionate about. Now more than ever in history, constituents are engaging with their Congressional offices. This is a great shift for the nation (and one that thrills me as someone who has spent years working on elections), but it also means that we all must work harder to make sure that our message is still heard.
What do you wish more people knew about Shot@Life and vaccine advocacy?
I wish everyone realized that every little bit adds up when it comes to advocacy, so even if you're only comfortable with a few actions or able to contribute just a small amount of your time, you can still be part of our overall impact and really help make a collective difference! Each activation we have, which is when our champions take collective action to maximize the impact of their voices, is proof of the power of individual contribution – we have some champions who only plug into online actions, some who consistently meet with their congressional offices, and champions of all walks in between. Collectively, we are able to cover a broad range of actions that can really impact a member of Congress and their level of support for global vaccination programs in the future.
What excites you most about your work?
There are so many things that I love about our campaign, but what excited me the most is the global impact that we're able to make. Before Shot@Life, I worked for over a decade in the political realm in campaigns and coalitions on both the state and national level. While I was happy with what I was doing, I fell in love with Shot@Life's mission and immediately wanted to be a part of it. Working at the United Nations Foundation also allows me to be surrounded by people from all walks of life who fiercely want to make the world a better place and are willing to work extremely hard to get results.
What's a hidden talent that you have?
I went to a performing arts high school in Las Vegas, and I love to sing! As the youngest of three sisters in a musical family, it was pretty common for us to put on elaborate shows for our parents and their friends when we were growing up. I still go to karaoke with my family every time I'm back home in Las Vegas.