Taking place from Monday, February 12 through Wednesday, February 14, 2018, in our Nation's Capital, the Shot@Life Champion Summit is our marquee event bringing together over 100 activists from all different walks of life to be inspired and attend training around global childhood immunizations. At the summit, Champions hear from experts in the areas of vaccines, global health, and international development, and will learn how to advocate and put your skills into practice with other Champions as you meet with your members of Congress together.
Applications for the 2018 Shot@Life Champion Summit are now closed. Thank you to all who applied.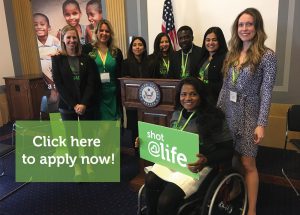 Previous year's highlights included:
Addresses by incredible speakers such as:

Dr. Francis Kateh, Deputy Minister and Chief Medical Officer of the Ministry of Health in the Republic of Liberia
Seth Berkley, Chief Executive Officer of GAVI
Dr. Anne Schuchat, Principal Deputy Director of Centers for Disease Control and Prevention
Pamela White, Former U.S. Ambassador to Haiti and The Gambia

Special guest appearances by Nigeria-born polio survivor and para-Olympian Dennis Ogbe, as well as from Ironman triathlete, polio survivor, and advocate Minda Dentler
Meetings on Capitol Hill with members of Congress or their staff
Interactive workshops led by experts in the fields of public health, advocacy, and media outreach
Summit applications closed December 29, 2017. We hope to see many of you there!
Click here to see pictures from last year's Summit!