Shot@Life Champion Derek Ebot-Akoachere gives a firsthand account of what it was like to attend the Drop To Zero polio event held in Atlanta, GA.  
I was incredibly lucky to attend the Drop to Zero polio event that took place on June 12, 2017 during the Rotary International Convention at the Georgia World Congress Center (GWCC). There was quite an impressive crowd; the energy and enthusiasm from the thousands of people flooding into the GWCC was a telling sign to the success of the convention. The Drop to Zero polio event was lined with an impressive list of panelists, including:
Senator Ayesha Raza Farooq, Prime Minister's Focal Person on Polio Eradication, Pakistan
E. Takashi Shinozuka, Consul General of Japan
Faisal Shuaib, Executive Director of the National Primary Healthcare Development Agency of Nigeria
E. Hamdullah Mohib, Ambassador to the United States, Afghanistan
Neven Mimica, Commissioner for International Cooperation and Development from the European Commission
John Germ, President of Rotary International
Bill Gates, Co-Chairman Bill & Melinda Gates Foundation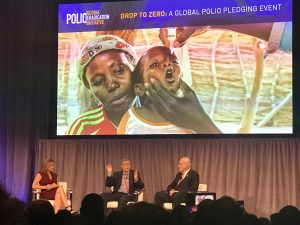 Speakers touched upon the issues faced by the three countries in which polio is still endemic – Afghanistan, Nigeria and Pakistan – and the steps needed to continue the fight towards total eradication of the disease. There were also insightful speeches and video messages from Dr. Anne Schuchat, Acting Director of the U.S. Centers for Disease Control and Prevention (CDC), Dr. Tedros Adhanom Ghebreyesus, Director General of the World Health Organization, Dr. Tom Price, Secretary Tom Price, U.S. Department of Health and Human Services, and the Prime Minister of Japan, Shinzo Abe (whose country recently contributed $30 million to the fight against polio).
Several states and organizations pledged to financially help in the fight including the countries of Luxembourg, Italy, Canada, Germany, Australia, Monaco, and Switzerland, and organizations including UNICEF, Bloomberg, Dalio Foundation and easyJet. Funds pledged amounted to a whopping $1.2 billion including a $1.7M contribution from Shot@Life, one of the largest non-government contributions.
With such massive, worldwide support for the eradication of polio, the disease is surely breathing its last breath.