Dr. Sam Katz is turning 90!
His career has been dedicated to saving children's lives through infectious disease research and vaccine development, including being one of the developers of the measles vaccine. He is currently the Wilburt Cornell Davison Professor and Chairman Emeritus of Pediatrics at Duke University.
In celebration, we asked this remarkable man a few questions.
What continue to be the biggest hurdles in delivering vaccine to the hardest to reach children around the world?
The mobilization of folks to administer vaccine to children in difficult to reach locales.
What is the most important thing an advocate can do to help work towards the elimination of measles? 
Tell his or her contacts of the great assets of vaccine, its safety and efficacy.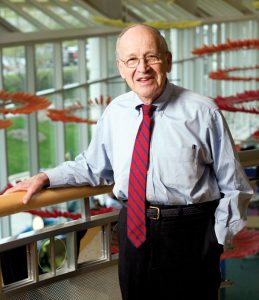 In today's interconnected world, diseases can easily spread across borders. What are the necessary steps to prevent this? 
Requirement of vaccine receipt to enter another country.
How will technology play a role in the continued progress towards measles and rubella elimination?
The development (currently underway) of patches for administration, doing away with syringes and needles.
Most people haven't heard of rubella. Why is this? And how does it affect children? 
German measles is fairly benign in most children but only of severity in fetal infections where it may cause CNS (Central Nervous System) damage.
Tell us a personal story that has had a significant impact on your work – whether someone you met, a conversation you had, or an experience?
Studying under John Enders with his guidance and support.
What is your birthday wish for all children everywhere?
Health and happiness for all.