Shot@Life Director, Martha Rebour, gives an inside look at day one of the World Health Assembly.
Yesterday was the official opening of the 70th World Health Assembly, marking Director-General Margaret Chan's last one. Dr. Chan opened the assembly with her final remarks as Director-General, painting the World Health Organization as "a safety net that encircles the globe," stressing the importance of fairness and addressing inequalities around health.
CEPI (Coalition for Epidemic Preparedness Innovations) hosted a morning side-event with the Harvard T.H. Chan School of Public Health. CEPI was formed at Davos last year as a means of shortening the time between disease outbreak and vaccine development. Speakers at the event referred to the danger of the panic-neglect cycle that occurs with health crises such as the SARS and Ebola virus outbreaks. Secretary Tom Price of HHS made a surprise visit to the event, noting his support of both CEPI and Rotary Foundation. Dr. Rebecca Martin, Director of the Center for Global Health from the CDC, closed out the meeting, saying, "We don't know what will hit next or when, but we do know it will happen. The question is are we doing what we can now to prepare ourselves?"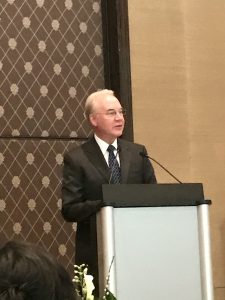 In the afternoon, I attended a side-event entitled "Development of New Technologies to Prevent Future Health Crises," which included robust debate amongst partners around private-public partnerships to address vaccine development. Joanne Liu, President of Doctors Without Borders (which is a member organization of CEPI), spoke of a "lack of representation by civil society and the Global South" in CEPI and private-public partnerships in general. Tim Evans, from the World Bank, claimed that "pandemics cost the world economy $50 billion per year, while it would cost only $7-10 billion per year to prevent them."  Most of the prevention costs would go towards strengthening health systems within countries. The CEO of CEPI, Dr. Richard Hatchett, emphasized that "disease risk anywhere, equals a health risk everywhere."
Throughout the hallways, and in the famous Serpentine Café, the hot topic of conversation was, not surprisingly, the impending election of the next Director-General. The three candidates are Dr. Tedros Adhanom Ghebreyesus from Ethiopia, Dr. David Nabarro from the UK, and Dr. Sania Nishtar from Pakistan. The election will be held this afternoon, deciding which of the three candidates will serve for the next seven years, facing a world skeptical of the WHO, with serious health challenges including Ebola, Zika, and Anti-microbial resistance (AMR).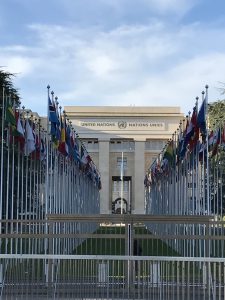 Please continue to tune-in to our social channels for the latest news from WHA and for the announcement of the new Director-General!