What I Hope You'll Never Know
Every time you 'like' and share this post, Johnson & Johnson will donate $1 (per social action), up to $500,000, via the Global Moms Relay to help improve the health and well-being of families worldwide in support of Shot@Life, UNFPA, Girl Up, UNICEF USA and Nothing But Nets.
By Zain Habboo
Twitter: @zainyh
Instagram: @embratora
Do you know that you have to thoroughly wash every single vegetable and piece of fruit a child with cancer eats because pesticides can reverse the effects of chemo? Do you know to keep Saran Wrap in your bag because it's less painful on your son's skin than medical tape? Do you know what goes into blood counts and why they matter and that even though you've struggled with science and math your whole life you are capable of learning and mastering this information in record speed because you have to?
Do you know how much it costs to bury a child? I do.
My wish is that no one else, anywhere, ever has to know any of this. Because you shouldn't have to. We shouldn't have to.
My five-year-old son, Rakan, was diagnosed with Wilms tumor in July 2015. The prognosis for this pediatric cancer is usually good: 85 to 90 percent of Wilms tumor patients can be cured. Words that are tattooed on my brain forever.
Everyone told us how lucky we are. How lucky that it's Wilms. How lucky that the world's leading Wilms expert was at our local children's hospital. And you know what? I felt lucky. But every time we made progress, we took two steps back. Every surgery that was successful uncovered a hidden problem we hadn't seen before.
Our journey was short and long at the same time. We had tools at our disposal that many parents in our situations don't. We had the Internet. We had world-class doctors and nurses. We had our educations. We had health insurance. We had connections that helped open doors closed to most. Despite all of this it came back to the same thing after every appointment with doctors, every call with a pharmaceutical company, every call with a parent we had found on a Facebook group who had gone through something similar: If only there were more research.
Every year approximately 80,000 to 100,000 children under 15 die from cancer globally. That's about 200 children a day. It sounds like a big number, but in the grand scheme, it's a small number—and not in a good way. It means that most research dollars go toward the bigger numbers—adult cancers that receive a lot of attention. We need to make funding for pediatric cancer research a priority.
In August my husband and I were asked to come into a small, airless room at the hospital where 12 people were crammed in. Some were lawyers, some were doctors, some I had never seen before. All I saw was our doctor's lips moving, saying, "We are sorry. There's nothing else we can do."
I don't remember much else. I remember walking numbly back to Rakan's room because I didn't want to spend another second away from him. I remember thinking that it was about to be his older brother's 10th birthday. I remember faking a smile so my boy wouldn't see the indescribable sadness on my face. I remember lifting my chin, walking into that room, and climbing into bed with him.
This isn't a story about how strong we are as a family. This isn't about how hard it is for me and my husband to wake up every day, make breakfast for our older son, get him off to school, then go to work ourselves. I'm not here to tell you about all the awful and beautiful things that happened during that year of treatments, hospital stays, and ER visits. I'm not here to tell you about the anxiety, tears, support, and surprising friendships we made.
I'm telling you our story because we have to take action. We have to take action to keep this from happening to anyone else.
As parents, we are the best advocates our children have. Worldwide, we need to take every step possible to protect them—vaccinate them against illnesses like polio and measles, take them for regular medical checkups, feed them healthy foods. These are life-saving basics.
And we must fight for research into pediatric cancers—for ourselves, for our families, for our friends, and for those strangers across the world who are living a parallel life to my family's. If we can unlock a cure to one, who knows what's possible. What do I wish? I wish for a world where you don't have to learn chemo hacks for children. Let's do this.
You share, they give: Each time you 'like' or share this post via the social media icons on this post, or comment below, Johnson & Johnson will donate $1 (per social action), up to $500,000 divided equally between Shot@Life, UNFPA, Girl Up, UNICEF USA and Nothing But Nets. The Global Moms Relay was created by the United Nations Foundation and Johnson & Johnson with support from BabyCenter, Fatherly, Global Citizen and Charity Miles to help improve the lives of families around the globe. Share this post with the hashtags #GlobalMoms and #JNJ, and visit GlobalMomsRelay.org to learn more.
You can also use the Donate A Photo* app and Johnson & Johnson will donate $1 up to $40,000 per cause when you upload a photo for Shot@Life, UNFPA, Girl Up, UNICEF USA or Nothing But Nets, to a maximum total of $200,000. You can help make a difference in seconds with the click of your mouse or snap of your smart phone.
* via the Donate A Photo app for iOS and Android. Johnson & Johnson has curated a list of trusted causes, and you can donate a photo to one cause, once a day. Each cause will appear in the app until it reaches its goal, or the donation period ends. If the goal isn't reached, the cause will still get a minimum donation.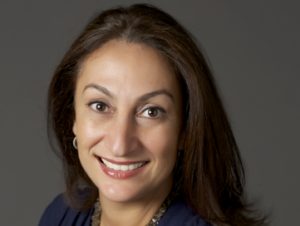 Born in Iraq, raised in Jordan, and educated in England, Zain Habboo now calls Washington, D.C., home. As the Senior Director for Digital and Multimedia Strategy at the United Nations Foundation, Zain develops and oversees digital, video, photo, and mobile strategy for the Foundation and its 17-plus worldwide campaigns and initiatives.
Her team's ambitious mission—to engage citizens around the globe with the lifesaving work of the United Nations—has resulted in the creation of viral memes (the #unselfie, #giveagif and more) and social media innovations (#Instacorps), as well as a leadership position in groundbreaking convergences such as the Social Good Summit, and much more.