Afghanistan's Female Polio Diplomats Lead The Way Across The Finish Line
Afghanistan's female polio diplomats lead the way across the finish line
By Dorn Townsend
KANDAHAR, Afghanistan– When Arianna Gul (not her real name) sets out to vaccinate children against polio, the biggest obstacle she faces is not the threat from [anti-government elements]. Sometimes, it's the attitudes of her neighbours.
"When I go out to vaccinate children, some of the men in the community are very angry that I am outside, walking around and speaking to people in public," Ms. Gul, a 36-year-old mother of five, explained during a recent National Immunization Day in Kandahar, Afghanistan's second largest city. "Sometimes the men on the street yell or even chase me, but that won't stop me from doing my job."
In a society with strict gender roles and social norms, female vaccinators like Ms. Gul are the key to winning the battle against polio, a crippling virus that has been paralyzing and sometimes killing children for thousands of years.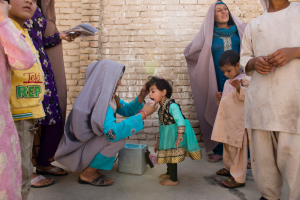 © UNICEF Afghanistan/2015/Kiana Hayeri
Arianna Gul administers oral polio vaccines during a vaccination campaign in Kandahar, Afghanistan's second largest city. In a society with strict gender roles, female vaccinators are the key to winning the battle against polio. 
Today, the efforts of the global polio eradication initiative have succeeded in stopping transmission of the virus in all but two countries: Afghanistan and Pakistan.
Ms. Gul is part of a team of several thousand female health workers in Afghanistan who operate on the frontline of this battle. For many of these women it is a chance to play a public role in their community and eradicate the disease once and for all.
Her 'beat' is Cluster 27 in Kandahar, where the city's disheveled urban sprawl starts dissolving into a dusty arid plain.
On a typical day, she will don a burka and vaccine-carrying box and set off to inoculate about 200 children in her community.
Focusing on 'missing children'
Today is the last day of a three-day vaccination campaign, but many children have been missed in the initial sweep. To make sure she gets access to the homes of these 'missed children', Ms. Gul is joined by another woman.
In districts where polio remains stubbornly endemic, these all-female teams are seen as the difference between success and failure. Often these types of 'house calls' are the only way a woman will open her door to strangers, allowing all the children under the age of five to be vaccinated.
"Mothers stay at home with their children and can't go out and our culture prohibits them from opening their doors to men, even male polio vaccination teams, so children who are right there and in danger of polio can't get vaccinated," says Ms. Gul. "But as women we can enter those homes even when men aren't around."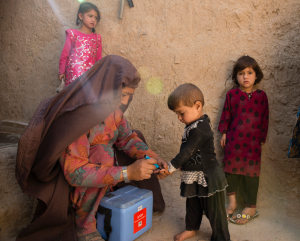 © UNICEF Afghanistan/2015/Kiana Hayeri
Female vaccinators go door to door in different district of Kandahar city and vaccinate children below age of 5. To keep track of who's being vaccinated during the 3-day-long campaign, the staff paint the left pinky finger with a marker.

The last frontier
Over the past few decades, public health workers have managed to completely stamp out only one disease, smallpox. But over the next year, there is a growing sense of optimism that polio will be the second disease eradicated in human history.
Fewer than 57 cases of polio have been registered worldwide as of November 2015. That's down from more than 350,000 cases in 1988, the year the world decided to come together as one to eradicate the disease.
In many ways, the map of polio mirrors that of the conflict in Afghanistan. The challenge to reach and vaccinate every child is as much diplomatic as it is operational and medical.
That's because the challenge in Afghanistan isn't that parents will refuse the polio vaccine – memories of an era when polio was all too common are still fresh in Afghan minds – but that children may not get the chance to be immunized because of cultural restrictions.
"There are obstacles, but I think most people in the community realize the work we are doing is important," says Ms. Gul.
"When we knock at the door and only a mother is home, I am often told how relieved they are that a woman has come to vaccinate their children because they know it's something positive that they want for their children," she says.