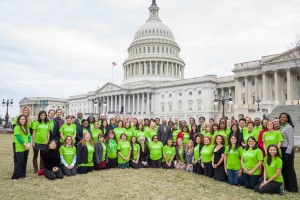 Join us for a National Call-In day on Thursday, February 2, 2017 and tell your members of Congress to protect full funding for the United Nations and the work of UN organizations like UNICEF and WHO. U.S. funding for these agencies may be under threat. Shot@Life is calling on all our supporters to ensure that U.S. financial aid for the UN does not disappear.
It only takes a few minutes, and all you have to do is follow these three easy steps:
Call the Capitol Hill main phone number at 202.224.3121 and ask to be connected to each of your Senator's offices, and also your Representative's office.
Politely tell the staffer who answers the phone that you have an opinion on funding for global health and foreign aid.
Use our talking points to deliver the message.
By contacting our Congressional leaders on the same day, we generate an even greater impact. If you do place calls, please let us know by emailing me at saud@unfoundation.org. Finally, don't forget to report your calls on the Champion community. Now is a critical time to raise your voice!  Your actions make a difference and we thank you for your dedicated support.