Reaching the Fifth Child: A Look Back at the UN Secretary-General's Legacy on Global Immunization Efforts
After an illustrious tenure at the United Nations, Secretary-General Ban Ki-moon gave his final speech today as he prepares to hand over his duties to successor Antonio Guterres at the end of the year. Ki-moon took office on January 1, 2007, and was re-elected, unopposed, to a second term on June 21, 2011. Throughout his two terms as the UN's SG, Ki-moon has taken a dependable advocate of global vaccination efforts, particularly as progress to eradicate polio has come so close to its final goal.
"Immunization is one of the most cost-effective ways to prevent disease and safeguard young lives. The global success so far in fighting polio shows how far we can advance. Our great progress came thanks to an international alliance of partners. Today, we have a window of opportunity to end polio forever."
Immunization reaches 80% of the world's children, saving millions of lives annually. Thanks in large part to the power of vaccines, the number of children dying before the age of five has fallen from 20 million in 1960 to 6.9 million in 2011, despite a large increase in global population. Within Ki-moon's time as UN SG, he has seen polio cases recorded at over 4,000 in 2007 drop to less than 100 this year. His most recent efforts to improve child and maternal health were seen through the launch of the Every Woman Every Child movement and the updated Global Strategy for Women's and Children's Health, which has helped improve the lives of millions of women and children around the world. Ki-moon has also supported crucial funding opportunities, including the 2013 Global Vaccine Summit, which raised $4 billion in funding commitments to the polio eradication plan.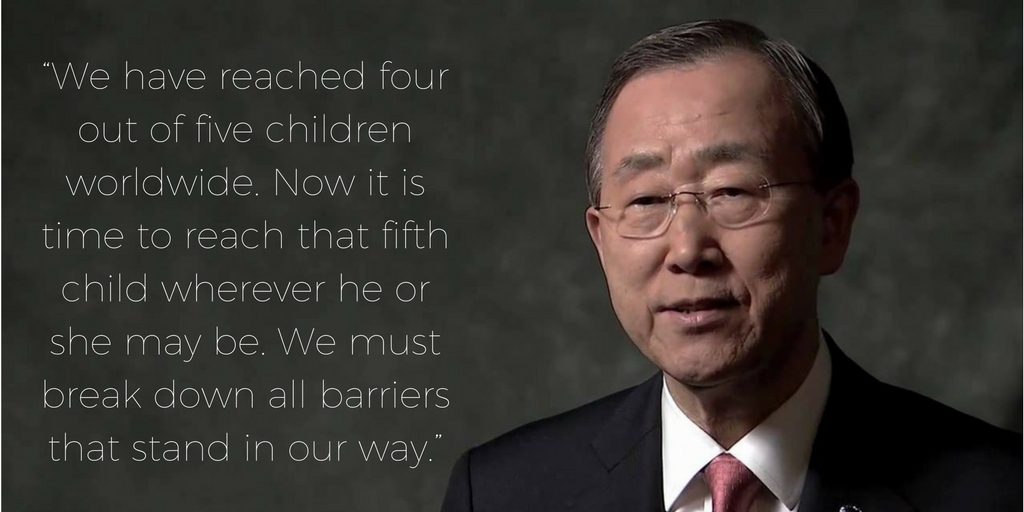 Despite the incredible increase in immunization rates over Ki-moon's tenure, 2.3 million children are still being missed each year, typically from the most vulnerable, economically challenged communities. To reach the unimmunized, the United Nations and its partners support vaccine procurement and distribution mechanisms, strengthen local health systems, help to secure sustainable funding for immunization, and advocate to reduce inequalities in access to essential vaccines and other life-saving interventions.
"I will conclude my service at the end of this year and pass the baton to my successor, to whom I wish every success in what is, to quote the first Secretary-General, the most impossible job in the world. It is also the most uplifting."
We look forward to continuing the UN Foundation's life-saving immunization work with António Guterres, the Secretary-General-designate of the United Nations. Upon Guterres' selection by the UN General Assembly in October, UN Foundation Founder and Chairman Ted Turner said, "He understands what it takes to lead, and he knows how to get things done. He's an impatient humanitarian who will be a tireless diplomat for the hopes of people everywhere for a better future."