Worldwide, pneumonia is the single largest cause of death in children, accounting for 15% of all deaths of children under five years old. While the 920,000 young lives taken by pneumonia last year impacted families all over the world, 98% of those afflicted were in developing counties. Fortunately, our domestic efforts can have a profound effect throughout the world.
Shot@Life works to support the United Nations in their work to better understand vaccination barriers, design appropriate interventions, and implement innovative solutions that lead to higher immunization rates. Substantial global progress has already been made in reducing the under 5 mortality rate by 53% through a variety of interventions since 1990, in large part due to increased vaccination rates now more commonplace in many developing countries around the world.
We're also proud to work closely with Gavi, the Vaccine Alliance, who has set aggressive goals that aim to accelerate the procurement and delivery of pneumococcal vaccines to the world's poorest countries.  In the development of the Advance Market Commitment (AMC), Pfizer pledged to supply up to 740 million doses of its 13-valent pneumococcal conjugate vaccine through 2025 at a deeply discounted price to infants and young children in Gavi-eligible countries who are at the highest risk of dying from pneumococcal disease.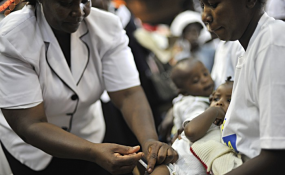 It's encouraging to see partners in a range of industries come together give all children access to medical attention regardless of what country they're born in.  Last year, the United Nations launched seventeen aspirational Sustainable Development Goals as part of an agenda developed to be achieved by 2030.  Under the overarching health goal, one specific target focuses on providing access to safe, effective, quality and affordable essential medicines and vaccines for all – a mission we continue to advocate for every day.
Clearly pneumonia is an indiscriminate infection impacting families around the world, but the burden of disease remains highest for children outside of the US.  We need your help to raise awareness of this devastating disease and encourage families, politicians, and corporations to take part in this global fight.  Join Shot@Life as we countdown to World Pneumonia Day, sharing interviews with experts in the field, international anecdotes of vaccination success, and ways you can help make sure all children around the world receive a shot at life.