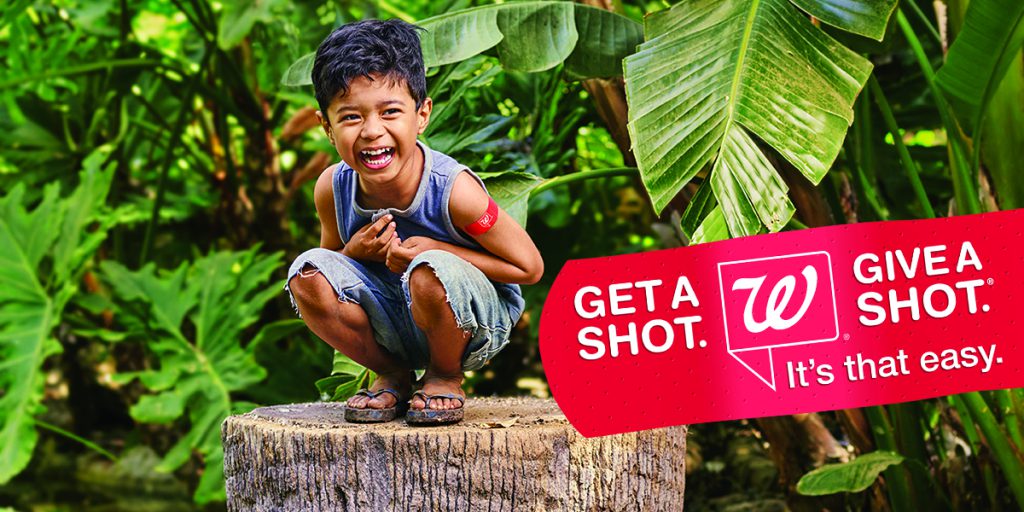 I am excited to announce the launch of the fourth year of the Get a Shot. Give a Shot.® campaign in collaboration with Walgreens. For every flu shot or any immunization administered at Walgreens, Healthcare Clinic at select Walgreens and Duane Reade in New York now through August 31, 2017, Walgreens will donate the value of one lifesaving vaccine through the Shot@Life campaign (up to $2 million).  To date, this partnership has helped to provide more than 15 million lifesaving vaccines for children around the world.
The funds provided to Shot@Life are used to help provide immunizations to children in developing countries. Children in places like East Timor, Chad, Tanzania and Afghanistan have benefited from this unique program that taps into our ability to do something good while also taking care of ourselves.
Shot@Life works through our implementing partners – WHO and UNICEF – to provide vaccines to children who need them the most. For example, in East Timor, according to UNICEF, a national measles and polio campaign was held in July 2015 to reach 500,000 children.
The campaign was led by the Ministries of Health, Education, and State Administration in partnership with the Measles & Rubella Initiative. The partners support included providing vaccines, refrigerators, cold chain, training for health care workers, social mobilization and multi media campaigns. During the campaign, immunization posts were established in every school and each district. This support can help strengthen overall routine immunization services in East Timor for years to come, which will improve child health, reduce preventable sickness and build a strong healthy nation for the future.
Programs like Get a Shot. Give a Shot.© are a great example of how simple it is to make a difference in a child's life so many oceans away.