How does one of the poorest and sickest nations in the world, dramatically increase the health of its people?
In 1994, fewer than a quarter of Rwandan children were fully vaccinated against measles and polio, the under-five mortality rate was among the highest in the world and life expectancy at birth was among the lowest in the world. Fast forward 20 years and Rwanda now boasts a 97% childhood immunization rate against 10 diseases and life expectancy has doubled. The number of annual child deaths has fallen by 63 percent.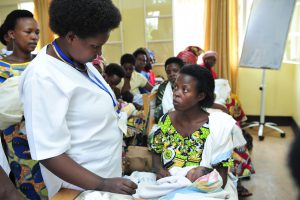 This spring, I traveled with Shot@Life and six congressional staff members to Rwanda to see firsthand the impressive health infrastructure that has led to these improvements, and learn how the Ministry of Health works with Gavi, UN Agencies and USAID to protect the health of Rwandans. Our trip was focused on children's health, particularly prevention of disease through childhood immunizations and our aim was to show these staffers what a profound difference high immunization rates make in a country and contribute to the wellbeing of the entire country.  Showing congressional offices the real-life impact of taxpayer investments is a powerful advocacy tool that can lead to an increase in support from Congress for immunization programs.
As a mother of two, I was especially interested in speaking with Rwandan mothers and asking them about the dreams they have for their children and the challenges that stand in their way. One such inspiring mother, Alphonse Munkana, is pictured below.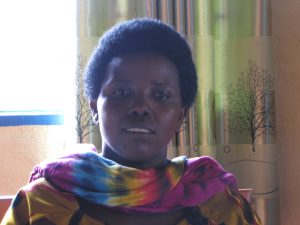 Alphonse lives in Urembo, a rural village an hour away. Alphonse and her two teenage children walk in the heat on unpaved roads to get to the clinic, and they have been making this trek regularly since her firstborn was a baby to make sure they do not miss a single vaccination appointment. Alphonse explained that she had seen children in her village succumb to serious illnesses and she promised herself early on that when she became a mother that she would do everything she could to ensure her children did not suffer the same fate.
Virginie Mukarwego, a mother of six, told me she makes all of her children's doctors' appointments her first priority. Her daughter has even expressed that she wants to become a doctor because of the impact she has seen these appointments have on her, her siblings and her friends.
Christine Umurerwa (below), a 25-year-old mother of two learned about the importance of vaccines through classes put on by her local community health workers. That, coupled with her infant son being hospitalized for three days with malaria, made Christine realize just how much of a difference healthcare can make on her family.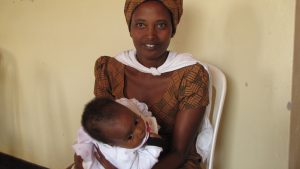 To meet these mothers and hear them talk at lengths about traveling from far and wide to these medical clinics to ensure their children get the medical care they deserve was an inspiration and a reminder of how important preventive services such as immunizations and bed nets are to mothers who, like all of us, just want to protect their children and make sure they receive a shot at a long and healthy life.