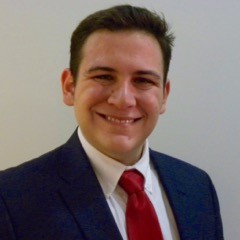 David's life so far has been a winding path, leading toward public service. After spending four years studying music in Chicago, beginning a career for only himself was not enough. He wanted to serve something greater than only myself, and is now finishing up a master's degree in Public Administration at Roosevelt University. He has found that joining with causes such as the ONE Campaign, Unicef, Shot@Life, and others to be the most effective use of his voice to bring about a better world.
Where did you grow up?
I grew up just outside of Flint, Michigan. I relocated to Chicago to attend college, and over the years have come to call the city home.
How did you become involved with the Shot@Life Campaign?
I have been blessed through my education with mentors that value service to others above all else. One such mentor, Dr. LaVonne Downey, has been a local leader with Shot@Life and other causes for some time. She presented the opportunity to serve via advocacy, which I simply couldn't turn down.
What has been the best part of being a Shot@Life Champion? The most challenging?
The best part of working with Shot@Life is the opportunity to join folks from all walks of life in service and advocacy. I recently had the privilege of going with a group to represent Shot@Life in Senator Mark Kirk's (IL) office. This group included a military veteran, a nurse, a professional lobbyist, a professor, public service students, and a medical student. We hailed from at least four different nations, and came together to advocate for the common cause of immunizations for all. Joining groups of such rich diversity to make our world a better place has been humbling, and a true privilege.
The most challenging part of being a Shot@Life Champion has been facts and figures. I am an aspiring advocate, but I am not a medical professional or statistician. It was a challenge, at first, to find the way in which I could contribute value to such important medical issues. I quickly learned that Shot@Life understands the value of every voice, from every background. While statistics are important, and immunizations do have a scientific aspect, the most important part of the Shot@Life movement is the collective voice that we carry to our leaders.
What is your role in the United Nation Association (UNA) Chicago Chapter? 
I currently serve as the Programs Director for the UNA Chicago Chapter. The mission of UNA is rooted in the Sustainable Development Goals. I design programs, in conjunction with topical committee leaders, to further the initiatives of the United Nations. Our chapter is working this year to develop a robust advocacy program, based on fellow United Nations Foundation models like Shot@Life.
What is your hope for the future of immunizations?
I believe that health, made possible by adequate medical care, is a basic human right in the 21st century. Every child has the right to grow up without fear of curable diseases. That can only be made possible with immunizations for all. I hope that immunizations become recognized around the world as an absolutely necessary part of ensuring every person's human rights.