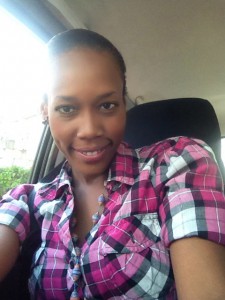 Keziah Jean is a young Haitian filmmaker/photographer and one of the few Haitian women to work as a professional filmmaker. She graduated from the Cine Institute Film Academy, a Haitian film school founded by American filmmaker David Belle. She began her career as a journalist and a photographer before switching to film-making where she has the opportunity to live two of her greatest passions: story telling and visual arts.
What was it like growing up in Haiti? Did you learn English, French and Haitian Creole all at once?
Growing up in Haiti is a tough thing for most people. Most of the people are denied the very basics things needed to just live. So, for anyone living anywhere near these conditions, make a living is a tough call. I learned French at school, Creole is a my native language and I learned English by myself, mostly by practicing at work.
You graduated from the Cine Institute Film Academy; the only Haitian film school created by Artists for Peace and Justice Foundation. What was your experience like there?
It was one of the greatest at my life. I've learned to know what my real passion is. I can't remember a day where I was bored at school.
How did you get involved with Shot@Life and how did you help out during their most recent trip to Haiti?
The Cine Service Director's asked me to help during the Shot@Life tour in Haiti, mostly by taking pictures. But when I was on set I was also involved in directing.
 
You have spent time working in LA. Where else in the United States have you lived and/or worked?
I was involved in productions in New York and Los Angeles but I've been also to Boston and Miami. 
You have done the head shots for some of the Haitian candidates in the 2015 election. How were you singled out to do that?
We have a small production company that has been pretty active last year shooting TV shows, documentaries and promotional videos. Somehow we've been noticed and were approached to make some campaign promotional material for politicians. We did the job. When you try to make a difference with the quality of your work, you always end up being noticed and opportunities will emerge.
What is one of the projects that you're most proud of?
One of the project I'm most proud of is yet to be released. It's a short documentary with no conversation about the life a woman worker in Haiti. She is selling patties to make a living and her story was interesting to me. I had a lot of great moments shooting part of her day-to-day life and discover what is like to be in her shoes, the struggle she has been living and how she dealt with her daily duties. It was quite something.
You enjoy comedies but you've found shooting them in Haiti to be challenging. Why is that?
Most of the time Haitians are very discrete people. They don't let people get into their privacy easily. Therefore, it's a hard time for filmmakers to really get into their inner reality and catch the essence of what is needed for a good comedy. I enjoy comedies and have seen some great inspiring ones. I'd rather make sure that the cast and the minimum acting level required is there before any serious attempt.
What are your hopes for Haiti's future? And your own future?
I hope Haiti finally gets in touch with change. We really need it. Things have been the same for too long. I have a few dreams that I would like to materialize. Otherwise, I just want to live life at the fullest.
This video shares the journey of one Mother who walks miles across Haiti to access vaccines for her daughter at a health clinic. Her willingness to overcome any obstacle shows the lengths she's willing to go to give her daughter a shot at a healthy life thanks to lifesaving vaccines.