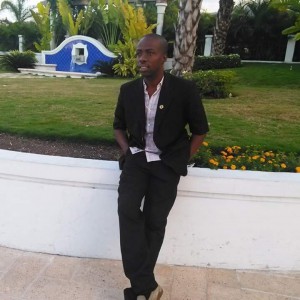 Abraham Pierre was born and raised in Haiti and is a teacher,  sensei,  trainer,  translator and a production coordinator. He speaks five languages: Creole,  English,  French,  Spanish and Japanese. He served as translator during Shot@Life's trip to Haiti. Pierre started teaching at the age of 14 and in addition to his work as a translator and handyman, he has also been involved in various types of social work after Haiti's earthquake.
How did you get involved with Shot@life?
I heard of Shot@life via UNICEF's Haiti office.
Can you tell us a little bit about your experience being a translator during Shot@life recent trip to Haiti?
My experience with Shot@life was just extraordinary. I have worked with lots of foreigners and they usually are working on documentaries, short films, etc. With Shot@Life it was completely different and very enjoyable to work with them, I felt very confident with the staff from the States. The interviewers found the questions very familiar and the answers very natural to be heard. It was just one of my best experience in my translating career.
What languages do you speak? Did you learn more than one languages where you were raised?   
I speak English, Creole, French, Spanish and I am actually learning Japanese in terms of practice as the karate style I study is from Okinawa, Japan. I learned all of these languages here in Haiti and I also learn them by myself.
What is the most challenging part of being a translator?
The most challenging part being a translator is when you call for a translation job unexpectedly so you don't have  time to know in advance the terms that will be used most in that field.  You will be translating as you're going and  that can be difficult. A professional translator has to know about all the specifics in a profession.
You've worked with UNICEF, Plan International Haiti, ActionAid, Ceci and Miami Herald Team and now Shot@Life. What has been some of your most memorable projects?
I translated two books for Ceci, translated some correspondences for children being sponsored for ActionAid and with Plan International Haiti I translated some books as well. Some of my most memorable projects were done with UNICEF; I did projects about child trafficking and malnutrition, describing our situations and highlighting the problems to be heard for partners and donors. And with Shot@Life I worked on their multimedia project. Honestly, I'd like to work for Shot@life every day, as the staff just let me assume my responsibility without any pressure. The Shot@Life staff trusted me–I could feel and see it and I was treated as such.
You've done a lot of traveling—what has been one of the most interesting places you've been? How about a new favorite food you've come across during your travels?
I want, need and have to travel a lot. I enjoy the Dominican Republic for their barbecue called "pica pollo" and the people in their consistent state of happiness.
You're also a martial artist and a sensei. What type of martial arts do you practice and what has your experience teaching it been like?                                                                                                              
I practice a discipline called shotokan which I think is the best martial art discipline ever. Being a sensei is great because of the hierarchy; once you are a black belt, you have to be respected and shown kindness. It is easy to get followers as long as you are an effective practitioner. For example, when I'm sparring or standing on a pole or on slight edge it looks dangerous, but I make it fun with it by doing whatever I want in terms throwing high/low kicks, high/low punches. And the passengers, school goers, church goers they are like: "what the hell, is this guy crazy (gadon tenten, ti nèg sa fou)" and their kids are like "Mom or Dad I want to do what he does." And I am like "please take them to my school and you won't regret it." My classes are in Japanese and English,where I help develop wisdom through respect for elders. I will always teach karate.
Where do you hope to see yourself in the next 5 years?
In the next 5 years I hope to be one of the most reputed people in Haiti because of my accomplishments, professional skills, language skills and my will to help others. I want to live in the States for at least a year and make it the first big country I visit.
This video shares the journey of one Mother who walks miles across Haiti to access vaccines for her daughter at a health clinic. Her willingness to overcome any obstacle shows the lengths she's willing to go to give her daughter a shot at a healthy life thanks to lifesaving vaccines.