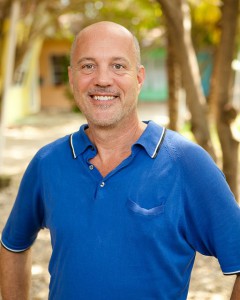 Andrew Bigsoisnki was born in Switzerland and grew up in New Jersey, USA.  A series of documentary films took him to Haiti in 2002, where he later joined a local Haitian international film festival as the technical director. He then co-founded the Cine Institute in 2007, which remains Haiti's only film school, which is a free two year program. In 2010, Andrew started the professional graduate division of the Cine Institute, called Cine Services. Andrew now operates as an independent producer and director in Haiti. He has produced many films for both regional and international companies operating in Haiti,  as well as supported international productions visiting Haiti from around the world. Film making creates jobs, and the teams Andrew develops in Haiti, mix the best international talent with the most accomplished local filmmakers.  These teams insure an intimate and safe access around Haiti, while insuring the highest level of international quality. 
Where did you grow up and how did you end up coming to Haiti?
I grew up in New Jersey.  And traveled quite often. My father was working as an economist with the World Bank. Our family often traveled with him to wonderful and remote places around the world.  This early travel experience with my family proved to  create a "travel bug" that still exists with me today.
I was always interested in the arts.  I studied music at Berklee College of Music in Boston, and my first professional work was in recording studios in New York City.  I began to study documentary film in New York, and began to get involved in post production for film, primarily as an editor.  My work as an editor took me to Egypt and Europe, then eventually back to New York City.
After many years of working as a post production editor, I got involved with a series of documentary films.  These films introduced me to Haiti. We installed an editing facility in Jacmel, Haiti, where the majority of the films where being produced. While in Haiti, other initiatives developed including an international film festival, and then finally, the film school – which I co-founded and which still operates today.
Why was the Cine Institute started?
The Cine Institute was started, from my perspective, as a response to the negative portrayal of Haiti by the international media.
With technology becoming more available and the development of all sorts of media becoming much more accessible, the time felt right to develop a resource in Haiti that allowed the creative local population to begin to define Haiti by the Haitians.  To give voice to the otherwise disenfranchised and help to develop a national resource that we knew would grow into the beginnings of a cultural revolution.
What types of projects do the students work on?
Now, after 8 years of teaching and job placement at the school, a great number of our graduates have started to produce independent creative films, that not only provide a source of income, but allow a world-wide access to a real, un-filtered, Haiti.  Wonderful stories that had previously been passed through generations by mouth, are now committed to film, where they will live in the Haitian cultural archives forever.  In addition to that, many of our graduates have found important jobs with both regional and international companies that all have relevant media needs for their organizations. So the school has helped to develop important economic and cultural pillars that must exist within any developing nation.
What is your favorite part of living in Haiti?
Haiti certainly has its challenges for any foreigner committed to participate in this cultural revolution. Basic infrastructure such as electricity and other fundamentals, are intermittent at best.  But these challenges force us to develop creative work arounds. And within this process, a truly unique method of film making is created. One that we are seeing is developing a cinema that we can say is truly Haitian cinema. So, despite the obvious challenges of living in the poorest country in the western world, a great deal of reward is in seeing the school and its accompanying graduate support division grow and overcome these challenges. The creative young people that are truly dedicated in developing this film culture work so hard along side the wonderful film makers that visit and share with us from around the world. It is truly the best of cross cultural collaboration and sharing of ideas and techniques. And there is also great satisfaction in seeing our dynamic Haitian graduates adopt these techniques and make them work within the current limitation of this developing nation.
How did you learn to speak Creole?
All Haitians speak both french and the local language of Creole. This has helped us to develop an all French spoken curriculum, as it is a prerequisite that all our visiting teachers speak french. From French, Creole is a short step away from understanding, and then, eventually speaking. Creole is a wonderful and musical language that incorporates many French words along with African, Spanish and even some English.  It is often said that to truly understand Haiti and its people, one must understand and speak Creole. So, even though it wasn't easy for me, I did make my best effort to speak the language, which I do well now. And I have been surprised as to how many of our teaching and visiting professionals have picked up the Creole language as well.
What is your hope for the future of Haiti?
As far as Haiti and the future: I see clearly now that education is key in the further development of Haiti.  Access to information can only strengthen the resolve of the population to better understand their basic human rights, and then to be able to exercise them. Beyond that, the government must develop into a government that truly represents the interests of all Haitians. A government that can insure basic human rights and also effectively apply the resources necessary to insure basic care, education and safety to all the people of Haiti. After that, Haiti has so much to offer the world. People shouldn't forget that it wasn't long ago that Haiti was the the richest country in the Caribbean and provided an amazing variety of agricultural resources to Europe and the Americas. And also not long ago, Haiti was fully self-sufficient. Bad trade policies and a series of devastating embargoes put Haiti into an economic nose dive – that I believe, the international community has a responsibility now to help Haiti pull out off.
We are doing our part here with the school, and hope that others around the world do what they can to keep Haiti close to their hearts.
I would hope that Haiti's neighbors in this global community never forget the extent of the contributions, along with the great suffering Haiti has endured, as the rest of the world developed around her.
This video shares the journey of one Mother who walks miles across Haiti to access vaccines for her daughter at a health clinic. Her willingness to overcome any obstacle shows the lengths she's willing to go to give her daughter a shot at a healthy life thanks to lifesaving vaccines.