Spring is a time when lawmakers are making important decisions regarding funding for global health programs. That is why Shot@Life's annual coast-to-coast challenge, Advocate2Vaccinate, is so important to bring polio and measles programs to the top of the Congressional agenda.
Advocate2Vaccinate takes place throughout the month of April and culminates during World Immunization Week (April 24-30). The activation will include various ways to connect with your Congressional offices — from tweeting at your Members to meeting with them in district.  By joining together and targeting our actions throughout the month of April we hope to have a greater impact on decision makers in Congress.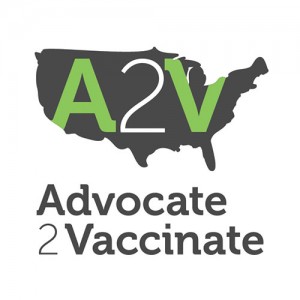 Ready to join us? Visit our new Champion Community for access to Advocate2Vaccinate content including call-in scripts, sample tweets and Opinion Piece templates. We will track all of our champions' actions throughout Advocate2Vaccinate in the Community. You can submit reports on your activities and gauge your impact by earning points! If you are not already a Shot@Life Champion, now is the time to join!  Log in to the community for access to our Champion training and to be connected with other champions in your area.
Get prepped for A2V by attending our A2V kick-off webinar! Register now!