Shot@Life Joins the American Association of Nurse Practitioners in New Orleans
Last week, a few members of the Shot@Life team spent last week in New Orleans at the American Association of Nurse Practitioner's (AANP) National Conference.
AANP is our new partner and has more than 60,000 members across the U.S. It was exciting to be a part of their annual conference as they celebrated the 50th anniversary of the founding of the Nurse Practitioner (NP) role. Dr. Loretta Ford, co-founder of the first nurse practitioner program in the U.S., spoke about the evolution of the NP role and the critical role they play in the frontlines of healthcare.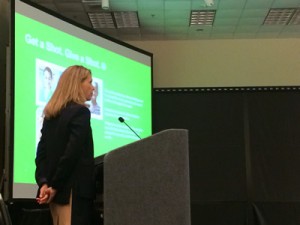 Several hundred attendees visited our booth to ask about the work we do and how they can participate. Being medical professionals, many of whom have done mission work in some of the same countries where we support vaccination campaigns, they understand the critical importance of access to vaccines in helping ensure that all children reach their fifth birthday.
Do you want to join AANP in making a difference in the lives of children around the globe through Shot@Life? Become a Champion by joining our next training on Tuesday, June 23 at 8 p.m. ET.
We are so pleased that AANP is part of the Shot@Life family and are excited to add nurse practitioners to our Champion base. Together, we will work to give children everywhere a shot at a healthy life.