148,000 Americans Agree That All Children Deserve a Shot at a Healthy Life
Friday was an exciting day for me! I was one of about 40 citizen activists to stand with 14-year-old Analeise as she spoke to Raj Shah, Administrator of the U.S. Agency for International Development, about our enthusiasm for Gavi, the Vaccine Alliance. We handed Dr. Shah petitions signed by more than 148,000 Americans urging a pledge by the U.S. at the January Replenishment Conference of $1 billion over the next four years! He smiled broadly – clearly appreciating citizen support – and talked about something we love to hear – that the U.S. is one of the largest donors, having contributed approximately $1.2 billion since the year 2000, helping Gavi immunize close to half a billion children and avert an estimated 6 million deaths in 77 of the world's poorest countries.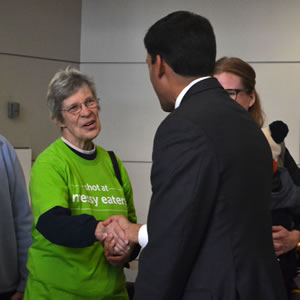 I was delighted to be wearing my Shot@Life t-shirt as I shook Dr. Shah's hand and told him I was grateful for his part in Gavi's being ranked the second most transparent aid program in the Aid Transparency Index in 2013.
He smiled and nodded, but I think he was distracted by one of the many toddlers or babies in the room – all cherished and all vaccinated – children of activists from Shot@Life, RESULTS, ONE, and the Global Poverty Project.
I was still excited about the meeting, so when I left the USAID offices I zipped over to some Capitol Hill offices to thank a couple of Representatives who have cosponsored a House resolution in support of Gavi and nudge a couple others to do the same.
What a great day!
BY PAT BEHENNA