Last night, the worlds of art and philanthropy fused to raise money and awareness for Shot@Life.
Project Perpetual, the vision of Paris based collector and philanthropist
, Svetlana Kuzmicheva-Uspenskaya hosted its inaugural event featuring an auction of exclusive works by famed American artist Jeff Koons, to benefit Shot@Life and our work to combat measles around the globe.
The event was grand in impact, but familial in setting featuring an intimate dinner at the iconic Four Seasons Restaurant. Project Perpetual showed a moving video about the importance and need for global childhood vaccines. After an amazing vocal performance by the legendary Mary J. Blige, our emcee and auctioneer, Simon de Pury, began auctioning off the unique Koons' works that incorporated donated Hermès handbags by individuals such as Diane von Furstenberg, Sofia Coppola and HRH Princess Caroline of Hanover.
The highlight of the evening was the auctioning of Koons' "Charity" piece- a 6-foot-tall plaster sculpture that incorporates three of the donated Hermès Birkin bags in the arms of a woman extending to a child. The sculpture was inspired by Picasso's La Soupe and is part of Koons's "Gazing Ball" series.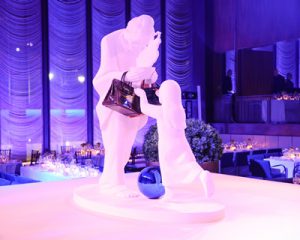 When de Pury closed the bidding with a final strike of the gavel more than $5.5 million had been raised to benefit Shot@Life!
Thank you to Project Perpetual, Svetlana Kuzmicheva-Uspenskaya, her husband Alexey Kuzmichev, Jeff Koons, and all the individuals who donated and supported this project. Their contributions will help Shot@Life and our implementing partners provide millions of children in developing countries with access to life-saving measles vaccines.