We want you to be a part of something big. Here is your chance.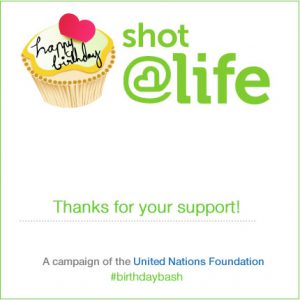 Today, humanitarians and health experts are gathering in Abu Dhabi for the first-ever Global Vaccines Summit. We already know that vaccines work, now let's help make sure every child has a healthy shot at life by telling world leaders that increasing access to global vaccines is important to us.
Show your support by sending a birthday message to Shot@Life. Download and print the Shot@Life First Birthday Card. Write a birthday wish for children around the world on the card and take a picture of yourself holding it. Upload the image to Facebook, Pinterest, Twitter or Instagram and tag #BirthdayBash to help spread the word that vaccines work!
Our own advocates, Kathy Calvin, the UN Foundation's President and CEO; and Peter Yeo, the UN Foundation's Vice President for Public Policy, are in Abu Dhabi today to make sure our message is shared at the Summit.
Together, we can help give every child a shot at celebrating their first birthday – and many more!