I need your help.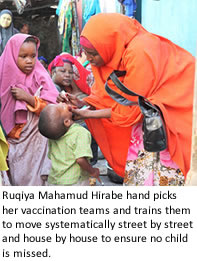 I am a Polio Officer living in Mogadishu, the capital of Somalia. For six years, Somalia has been free from polio. But that changed a few weeks ago when the disease reappeared. This was alarming news because the outbreak could potentially paralyze hundreds of children and spread across borders.
When I joined the polio eradication effort in October 2005, Somalia was in the midst of a polio outbreak that paralyzed more than 200 children and strained a country that already faced many difficulties. We worked tirelessly to stop the disease and vaccinate as many children as possible. I didn't think an outbreak would happen again – but until polio is completely eradicated, every country remains at risk.
I know we can stop polio for good. Will you join me? Donate today to help ensure that polio workers like me have the resources we need to immunize children and eradicate this devastating disease.
Even though the disease has come back, my teams are motivated and will leave no stone unturned, ready to visit every house and school to ensure all children are protected. Each day is long, but I am proud to serve my community and the children of Somalia. I don't want to see another child paralyzed by polio.
If we work together, we can stop this outbreak and end polio. Donate by June 30 to help Shot@Life reach its goal of supporting polio immunizations for 10,000 children.